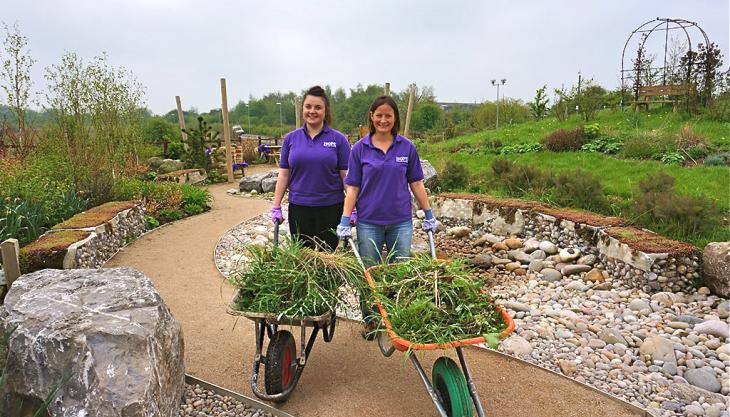 Employees complete 100 days of voluntary work as part of Hope for Others initiative
THIS week, Hope Construction Materials' employees completed 100 days of voluntary work, as part of the company's 'Hope for Others' initiative.
The scheme, launched by the firm in 2014, sees Hope employees choosing to partake in charity work close to their heart, with the business offering two fully paid days leave to each employee per year.
Hope staff are encouraged to choose the activities or causes that most resonate with them. The 100 days of voluntary activity carried out reflect the company's diversity with projects ranging from DIY activities and gardening to the collection of wildlife data, races and physical challenges, and foster care training.
Beneficiary organizations have varied depending on the team or employees' connections and interests, and have included several local hospices, the Bristol Royal Hospital for Children, Derbyshire Local Authority and Rossington Riding for the Disabled.
Alongside hands-on physical activity, Hope have encouraged staff to use their core skills to contribute to their chosen projects. Hope employees have carried out skills-based volunteering, providing interview skills training to a local college.
Skills-based volunteering is increasingly celebrated in the charity sector, as it helps to provide a more meaningful and lasting contribution to specific projects.
Hope for Others reflects the company's core values of people, growth and sustainability, strengthening internal commitment and team unity, while also promoting meaningful community engagement.
Central region director Cara Mills said: 'Volunteering is an excellent team-building activity and really makes you drop any barriers that you may have had. It is also a great stress release.
'At the end of the day you leave feeling immense pride and worth, having given something back to the community, and it doesn't end there – you end up creating a strong friendship with people in the local community, which is really what Hope is about.'
Hope chairman Amit Bhatia said: 'I've always believed that people want to help others but often simply don't have the time to do so. That's why we launched Hope for Others – we want to give our employees the time and support that they need to carry out the projects that are closest to their hearts.
'I'm delighted we have reached 100 days of helping, and now we have real momentum I expect we'll complete another 100 fairly soon and it won't be long until we're celebrating 1,000 days.'