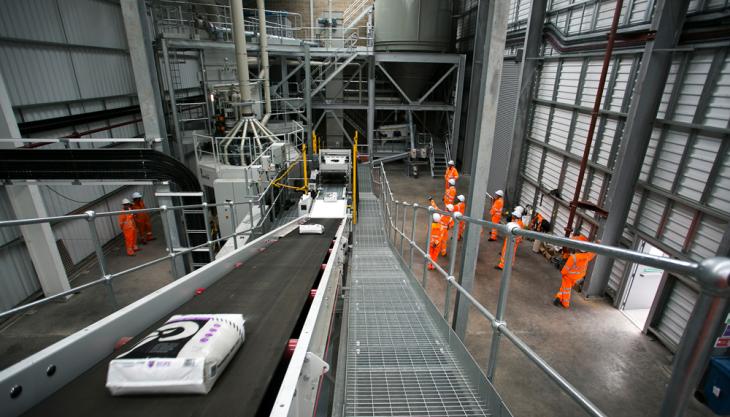 Company aiming to transform bagged cement market with unveiling of new product range  
HAVING firmly established themselves in the bulk cement market, Hope Construction Materials have officially unveiled their new high-performance bagged cement products, which, for the first time, are all available in the company's own packaging.
Underpinned by a customer centric approach and strong brand heritage, Hope say customers can expect to benefit from advanced packaging technology and unparalleled delivery service, which aims to provide a consistent lead time commitment of 1–3 days.
Hope will also be launching a sector-leading incentive scheme for builders' merchants and professional builders, bringing a new approach to the market, driving traffic into their stockists and helping to grow their businesses.
The full product range, which consists of 12 key products, is packed exclusively in durable plastic packaging, which not only weatherproofs the cement, but also ensures better durability in transit and storage, in turn increasing the overall product shelf life and improving inventory management options for stockists.
All of Hope's cement is produced at Hope Works, in Derbyshire, and transported from there by tailor-made rail wagons to the company's new £14 million state-of-the-art depot in East London. This purpose-built facility, which sits on the former Ford site in Dagenham, benefits from pioneering packing technology, which delivers 1,300 bags every hour and 60 bags per pallet.
Almost all air is extracted from the bag, which ensures a very neat stack and load stability; this is enhanced by the use of a shrink-hood system, which provides additional weatherproofing properties.
Describing the launch as a major development in the industry, Hope's commercial director, Gary Brennand, said: 'Our goal from day one was to not just be a cement supplier, but to be a genuine partner for our customers as a result of a strong proposition that creates real value for our stockists.
'There is not one thing that will set us apart, it's the sum of lots of things that will enable our customers to have a competitive edge when they work with us.'