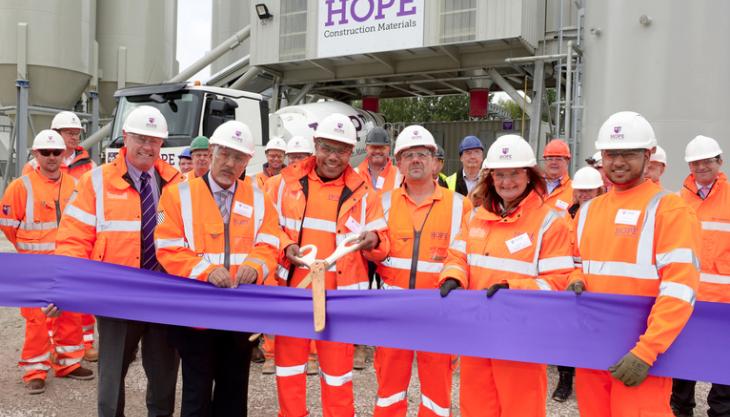 Company invests £1.2 million in Walsall site for improved supply to the region's building projects
HOPE Construction Materials have stepped up their ability to supply construction projects in the West Midlands with the opening of a new £1.2 million upgraded site in Walsall, which includes a railhead and concrete plant.
In addition to investing in the concrete plant, Hope have also developed the rail-connected site as an important 'multi-product hub' for the Black Country and West Midlands region.
Hope's chief executive officer, Chris Plant, commented: 'This investment means that we can now bring in aggregates by rail from our quarry near Buxton, in Derbyshire; and we can also bring in cement by rail from our works at Hope, also in Derbyshire. This, in turn, means that we have all the key ingredients for concrete here on one site, ready to provide a slick and efficient first-class supply service for the construction boom in this area.'
Hope say the latest technology has been used in the new plant, ensuring efficient management of delivery vehicles, high levels of environmental performance and ample production capacity. The company is producing up to 80 cubic metres of concrete per hour for supply to large-volume construction projects in the area, as well as smaller building and DIY projects.
Councillor Mohammed Arif, Cabinet Member for Shared Services and Procurement at Walsall Council, who took part in last week's official opening event, welcomed Hope's investment and support for local jobs. 'Walsall Council is committed to the regeneration of the area and the creation of employment. The new Hope facility will help in the development of the area and construction in the region,' he said.
In addition to the ribbon cutting ceremony, Hope also took advantage of the occasion to name locomotive 60044, which is bringing in aggregates from Dowlow Quarry in Derbyshire. The locomotive was officially named 'Dowlow' by Chris Plant and Geoff Spencer, chief executive officer of DB Schenker Rail UK, the company which operates the train on behalf of Hope.
Mr Spencer said: 'This is the beginning of a long-term partnership between DB Schenker Rail UK and Hope Construction Materials. Volumes are expected to grow significantly during the contract and we are proud to be supporting Hope in achieving their goals.'
Mr Plant added: 'It's a real pleasure to see our new Walsall site opened officially. With all three of Hope's products in one place, we are enhancing our ability to offer a local, expert service for construction contracts of all sizes in the West Midlands. Our investment in this plant reinforces our confidence in the economy of this region.'