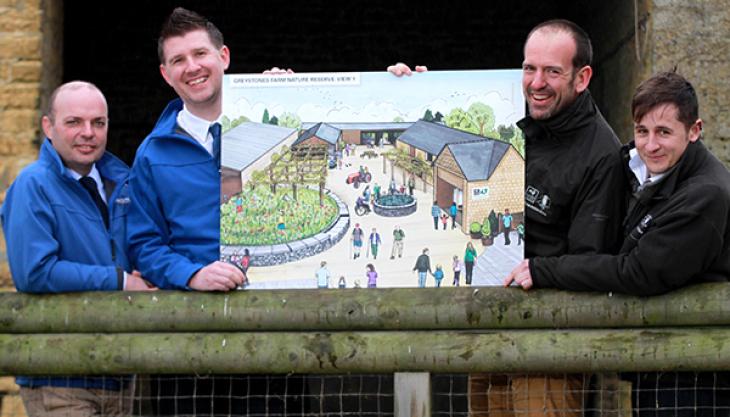 £150,000 donation from waste-management firm makes wildlife discovery centre possible
A BRAND new education and wildlife discovery centre is set to go ahead in the Cotswolds thanks to a donation of £150,000 from Grundon. It is the first major grant received by Gloucestershire Wildlife Trust (GWT) for its 'Cradle of the Cotswolds' project.
The project is based at GWT's Greystones Farm nature reserve at Bourton-on-the-Water, one of the UK's most visited villages, where dilapidated farm buildings will be restored into education and exhibition spaces telling the story of the farm, its wildlife and the origins of Bourton since Neolithic times.
'We are delighted to support this exciting project,' said Andrew Short, estates director at Grundon. 'The Trust has a long-term vision to transform this farm into somewhere that the children of Gloucestershire, local people and visitors can visit and discover the wildlife and 6,000-year history at this beautiful nature reserve.'
In 2014, GWT received a grant of £103,000 from the Heritage Lottery Fund to develop and research ideas for a new visitor centre, and, following a successful year of consultation, has submitted a further application to fund the project. GWT will find out the outcome of its Lottery application later this month, but crucial match funding is also needed to start work on the site.
'Greystones Farm nature reserve is an amazing place and has a good claim to being the birthplace of the Cotswolds' said Roger Mortlock, chief executive officer of Gloucestershire Wildlife Trust. 'We are planning a transformation of the site that will cost more than £1 million, but this incredible commitment from Grundon is a crucial first step in helping to support our plans.'
Work is due to commence this spring with completion due in 2018 when the discovery centre will open to the public.
The nature reserve, which is home to the whole of the Salmonsbury Meadows, a designated SSSI, with Salmonsbury Camp Scheduled Ancient Monument to the south, is only a few minutes' walk from the centre of Bourton-on-the-Water and has some of the richest and largest examples of unimproved neutral meadows in the Cotswolds with uncommon plants such as southern marsh orchid and early marsh orchid.