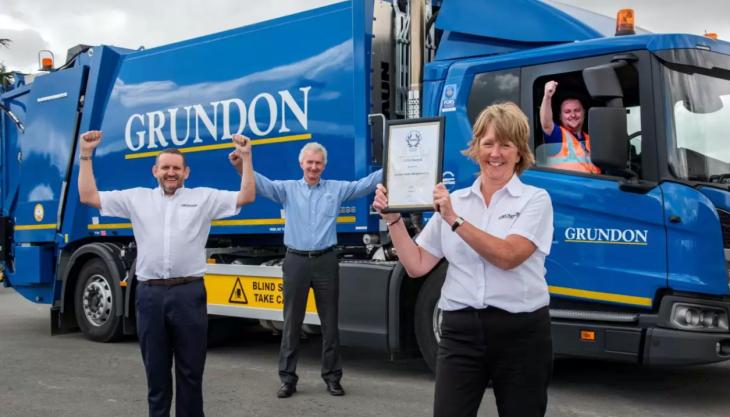 Company receives Royal Society for the Prevention of Accidents accolade for its health and safety practices
GRUNDON Waste Management have been awarded a prestigious Royal Society for the Prevention of Accidents (RoSPA) Gold Award for their health and safety excellence. It follows on from the Silver won last year, achieved at the first time of entering.
Organizations receiving a RoSPA Award are recognized as being world-leaders in health and safety practices, such as visible felt leadership and workforce engagement. Every year, nearly 2,000 entrants vie to achieve the highest possible accolade in what is the UK's longest-running health and safety industry awards.
Reg Hodson (pictured left), safety, health, environment and quality (SHEQ) manager for Grundon, commented: 'After winning Silver in 2019, it really spurred us on to go for Gold and this achievement is absolutely fantastic. Every year we strive to do even better, not just by continuing to reduce incidents and accidents, but by providing more information to engage with our employees to ensure they all go home safe at the end of the day.'
Following last year's success, the Grundon SHEQ team used valuable feedback provided by RoSPA to help focus on its 2020 entry, which included: demonstrating a commitment from the senior leadership team; providing evidence of activities such as the appointment of safety champions and safety events; and outlining the company's role within industry organizations and the wider waste sector.
Julia Small, RoSPA's head of qualifications, awards and events, said: 'RoSPA wants every employee, wherever they are, to work safe in the knowledge that they will be going home unharmed and healthy at the end of every day. The RoSPA Award winners are vital to help achieve this goal, as by entering they are driving up standards and setting new benchmarks for organizations everywhere.'