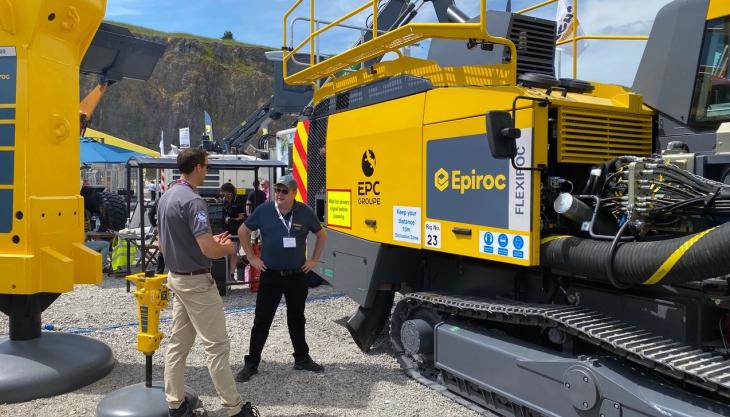 FlexiROC D55 rig delivered directly from exhibition stand to one of Tarmac's key quarries
DESPITE the high-pressure environment the industry must perform within at present, EPC-UK are prioritizing their investment in reliable, state-of-the-art equipment from trusted supply partners, so they are ready to react to customer demand rapidly and assuredly through challenging times.
Reflecting this approach is the company's longstanding partnership with surface drill rig manufacturers Epiroc, whose technically advanced machines form the majority of EPC-UK's rig fleet, contributing to their drilling team's consistent delivery of high-quality blasting processes.
A recently purchased and freshly liveried FlexiROC D55 rig drew the crowds last month on Epiroc's Hillhead stand, and has, from its exhibition place at the Buxton quarry, been successfully relocated to a Tarmac-assigned customer worksite.
The D55 rig is a versatile and efficient down-the-hole model, with a specification well suited to EPC-UK's customer's needs. Designed to keep production levels high and operating costs low, the rig's precise drilling function and unique cylinder feeding system helps improve blasting operations, whilst its capacity to run at a lower rev/min supports longer engine life and reduces fuel consumption.
'We are not alone regarding the challenges faced by our industry at present, with the ripples affecting customers and suppliers alike,' said Ben Coppock, general manager of blasting and explosives at EPC-UK. 'However, by working with reliable partners such as Epiroc, and continually investing in the latest equipment, we have an in-depth support network and the strength to react to customer demand, despite the obstacles.
'Supported by Epiroc's supply, we're able to 'flex our fleet' to meet the requirement, even against excessive lead times which have grown dramatically in the face of recent global conditions. Drawing on the mutual importance placed on Safety, Passion, Integrity, Respect, Innovation and Teamwork, so integral to EPC-UK's SPIRIT values, we've worked in partnership to equip our customers with the machinery and service needed to keep operations moving, no matter what unanticipated circumstances may bring.'
Commenting on behalf of Epiroc, area sales manager Jason Reilly said: 'Working in partnership with the team at EPC-UK enables us to understand some of the challenges they face. We can then offer support to maximize performance using the latest drilling technology and demonstrate how this has been used to deliver savings elsewhere.'
'Delivering our most recent D55 fleet addition directly from the Epiroc stand at Hillhead to one of Tarmac's strategically important quarry sites has been a true demonstration of our ability to provide equipment exactly where and when it's needed,' continued Mr Coppock. 'By being uniquely placed in the market, with the right machinery and capacity to extend lease times when required, we're responding to what the operating environment demands of us right now, effectively, reliably, and in successful partnership.'
Now at one of Tarmac's leading sites, where the need to meet production demand is critical, the Epiroc rig, which is the second such asset to be supplied, will improve drilling processes to maximize customer benefits.
Robert Lees, area operations manager for Tarmac, commented: 'We have worked in collaboration with EPC-UK for several years and have confidence in the company's service delivery. We can rely on the team to react to issues, enable the right logistics, and install the most capable equipment to get the job done, securing solutions for customers despite the challenges faced.'