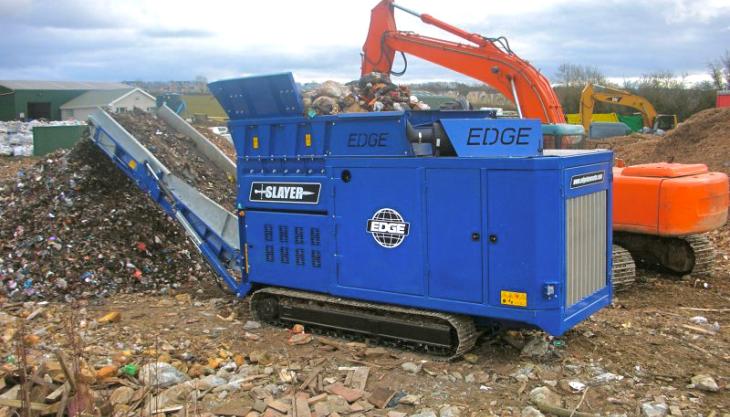 Slayer Basket guarantees required piece size in just one pass through the Slayer XL shredder
EDGE Innovate have recently launched the Slayer Basket system for use with their Slayer XL shredder machine. With this new screen system, material can be shredded to the required size in just one pass. The baskets come in various apertures from 50mm up to 250mm, depending on customer requirements, and can be quickly removed or exchanged for a different aperture.
The Edge Slayer can be employed as either a primary or a secondary shredder due to its highly robust design and ability to handle difficult to shred material. The XL range can be supplied with up to 12 different shaft configurations, making the machine suitable for a wide range of applications. This is combined with features such as tramp metal cycles and intelligent load sensing to ensure against asset damage and downtime.
With a high percentage of material processed by primary shredders not being resized to the required piece size, the new Slayer Basket system guarantees the operator the desired piece size in just one pass, thereby reducing production times and operating costs.
This new shredding chamber configuration comes with bolt-on tools with two cutting edges (doubling tooth life), heavy-duty pipe unit shafts and optional tooth breaker bar. The new cutting edges on the bolt-on tools allow the Slayer Basket system to both cut and shred. These characteristics allow the Slayer to process difficult to handle materials, such as tyres at a high throughput capacity and at low engine output.
Whether processing C&D waste or domestic household waste, the Edge Slayer offers all-round capability and can be customized to provide the right tonnage at the desired pieces size. If pre-shredding is required, the basket mesh can be removed, creating a pre-shredder and secondary shredder all in one.