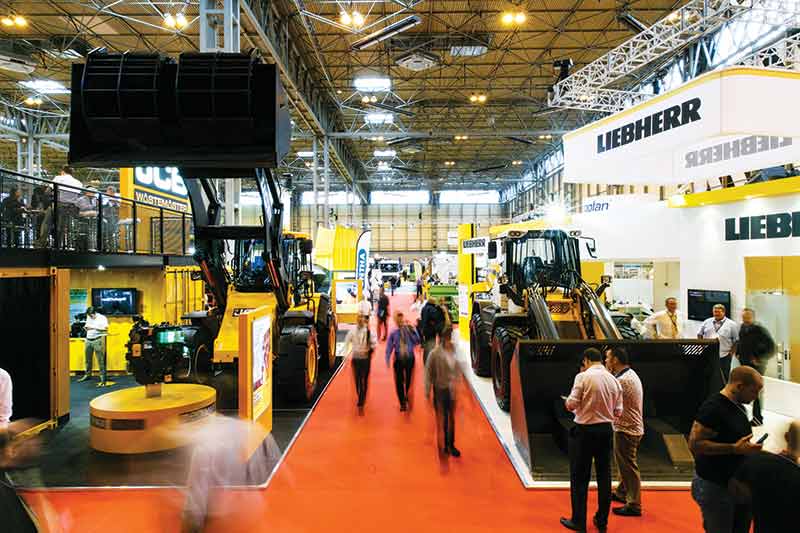 First published in the August 2015 issue of Quarry Management 
Three-day showcase exhibition for the recycling and waste-management industry
Taking place at the NEC, Birmingham, on 15–17 September, RWM 2015 – in partnership with the Chartered Institute of Waste Management (CIWM) – is Europe's premier event for resources efficiency and waste-management solutions. The show attracts more than 700 exhibitors and in excess of 13,000 visitors, championing innovation by promoting new products and services, case studies and quality networking opportunities.
It is the only exhibition of its kind covering all aspects of the recycling and waste hierarchy, where visitors can explore six key segmented sections of the show – Energy from Waste, Machinery & Equipment, Recycling & Reprocessing, Handling & Logistics, Professional Services and Circular Economy Connect – that have all been designed to help make navigation simple and visitor-friendly, to find the right solution. 
Among the companies signed up to exhibit at the event are: Air-Seal Products Ltd; BPH Attachments; Case Construction; Eriez; Finning; Groeneveld; Herbst Machinery; JCB; Liebherr; McCloskey; Mogensen; and Weightron Bilanciai. First time RWM exhibitions will include: Baioni Crushing Plants; Skako Vibration; Terex Minerals Processing; and Vulcan Burners.
Not only will visitors be able to discover the latest technologies and meet the right suppliers for their businesses, the exhibition will also feature leading industry figureheads and experts giving out key advice and presenting relevant papers as part of an extensive seminar programme. According to the show's organizers, more than 150 expert speakers across three theatres are expected to participate in what will be the largest, free, CPD-accredited conference programme in the industry. 
Among the featured speakers at the show will be: Charlie Law, founder and managing director of Sustainable Construction Solutions; Angus Macpherson, managing director of The Environment Exchange; Chris Holmes, managing director (waste and bioenergy) of Green Investment Bank; Ian McAulay, chief executive officer of Viridor; Linda Crichton, head of resource management at WRAP; and Steve Lee, chief executive officer of CIWM. 
Launched at last year's show, RWM 2015 will, once again, feature Circular Economy Connect – a theatre space dedicated to networking and learning among sustainability professionals from across commerce and the recycling and waste-management industries.
The special zone will focus on a number of key themes and issues of particular interest to visitors and exhibitors alike, including business models for a circular economy and the transition from waste management to resource management. 
'Circular Economy Connect 2015 will provide an excellent incubator for exhibitors and conference-goers to form the collaborations and alliances that are needed to successfully drive the circular economy,' said Gev Eduljee, director of external affairs for SITA. 'The event provides our sector with a valuable opportunity to help find solutions to the resource-management challenges we face.' 
Also commenting on the value of the Circular Economy Connect theatre, Sarah Wakefield, environmental project manager for Co-Operative, said: 'Circular Economy Connect presents an exciting opportunity for providers to collaborate with waste producers to change our thinking from waste to resource.'
RWM 2015 will be joined by three co-located exhibitions (15-16 September) – The Energy Event, The Renewables Event and The Water Event. 
The Energy Event is Europe's leading and most comprehensive energy procurement and management show, providing access to the services, products and advice of more than 160 exhibitors.
The 2015 Renewables Event is the only show of its kind dedicated to on-site micro generation, offering visitors and exhibitors alike the opportunity to meet end-users from the industrial, commercial and public sectors. Many organizations within the renewables sector will be showcasing their work, from biomass to solar panels and heat pumps.  
The Water Event 2015 promotes the efficient consumption and procurement of water, ahead of the expected deregulation that will transform the industry. The show will be crucial for organizations delivering water-efficient products and services.