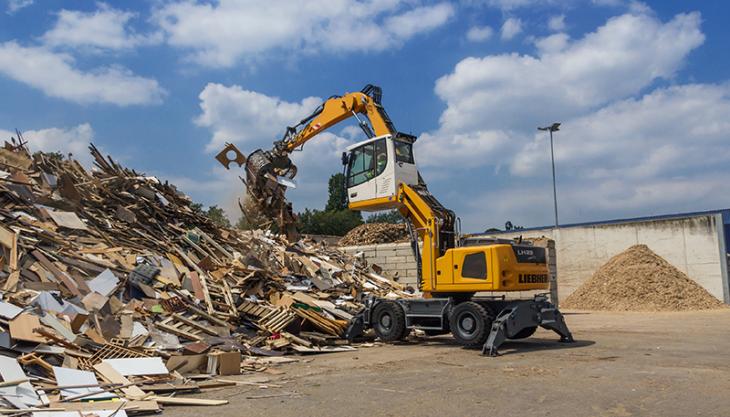 Liebherr-Great Britain to show LH22 M Litronic material handler and L538 wheel loader
LIEBHERR-Great Britain Ltd will be exhibiting two specialist material-handling machines from the company's comprehensive range of equipment, both designed and built for municipal and commercial waste management, transfer stations, recycling operations and secondary metals handling.
The LH22 M Litronic on display will be equipped with a 5.5m straight boom, a 3.5m industrial stick with tipping kinematics, and a Liebherr 0.75 cubic metre sorting grab with perforated shells. With this working attachment, the machine is optimally equipped for recycling and sorting tasks.
Other key features of the machine include an operator's cab with hydraulic height adjustment and four outrigger supports at the front and rear. Designed for comfort, performance and reliability, Liebherr say the LH22 M Litronic material handler offers a combination of fuel efficiency, high lift capacity and long reach.
The L538 on display will feature cushioned solid tyres and extended lift arms, together with a 2,750mm wide, 3.0 cubic metre capacity Ulrich direct-mount high-tip bucket.
According to Liebherr, the L538 offers end-users a high degree of flexibility and productivity thanks to its enhanced hydrostatic drivetrain. The hydrostatic transmission coupled with the positioning of the six-litre engine at the very rear of the machine, allows higher tipping loads to be achieved with a lower overall operating weight, resulting in reduced fuel consumption and greater productivity.
Brake life is significantly increased on the Liebherr range of wheel loaders thanks to the hydraulic braking action of the driveline, resulting in lower operational and repair costs.
The hydrostatic driveline also incorporates the newly developed Liebherr Power Efficiency (LPE) system, which optimizes the interaction between the drive components. This increases efficiency and has resulted in an 8% saving in fuel use compared with Tier 3 engine technology.
The machine software takes the electronic signal from the accelerator pedal and calculates the most efficient way of putting that command into practice. Linked with continuously adjusted tractive forces, wheel spin is virtually eliminated resulting in almost 25% less tyre wear.
Stand: 5P10–R11