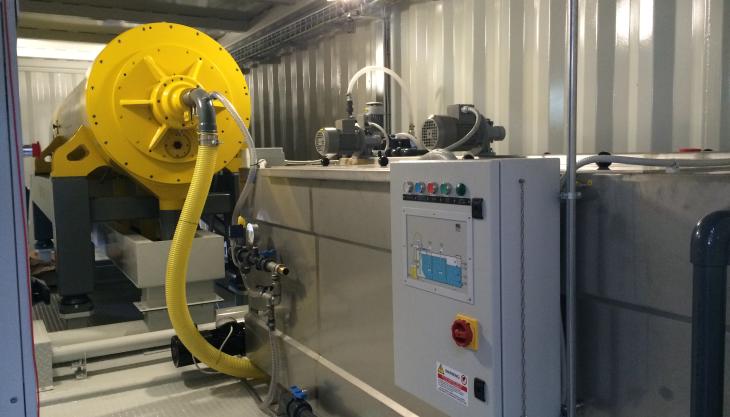 CentriPod centrifuge system to take centre stage on Italian firm's outdoor stand at the NEC Birmingham
BAIONI Crushing Plants of Italy will be showcasing their latest centrifuge system, the CentriPod, at next week's RWM show at the NEC Birmingham (15–17 September).
The CentriPod plug-and-go system, which comes in modular containerized units complete with the latest touch-screen operator controls for easy manual or automatic operation, has been designed specifically for the reclamation of solids and water from aggregate washing plants, quarrying and mining processes, and recycling operations.
The CentriPod is available in three models, each capable of reclaiming solids down to 63 microns from wash flows while cleaning water for immediate reuse in washing operations, thereby eliminating the need for costly lagoon storage.
Full installation of the CentriPod can be carried out on the day of delivery and the portability of the system allows it to be moved from site to site very quickly, if required.
Experts will also be at the RWM show to explain the latest Baioni modular soil washing systems, which can be tailored to suit individual requirements for contaminated land reclamation and the reclamation of hydrocarbons and heavy metals.
Likewise, as manufacturers of equipment for the quarrying, mining and recycling industries, the Baioni team will be on hand to provide information on the company's entire range of mobile and electric tracked crushers and screens.
Also on display on Stand OA127 will be the latest ph blue concrete wash-out system.