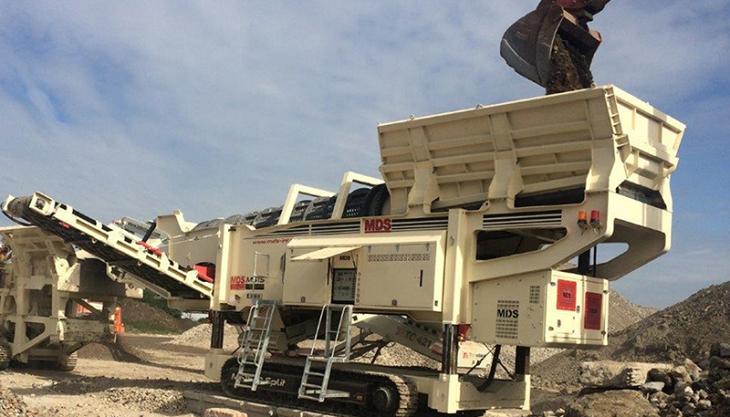 Company takes large stand to show off its expanded portfolio of material-processing equipment
MATERIAL processing equipment suppliers Blue Group are continuing their allegiance to the RWM show and, once again, will be putting on a broad display with one of the largest indoor stands at the event.
Recent significant developments in the Group's continuing expansion and development will be highlighted this year with UK debuts for its two new distributorships – MDS heavy-duty trommels and Westeria air-separation technology.
Meanwhile, established products from the Blue Group portfolio will include a shredder from the Doppstadt range, as well as the latest splitter technology from the German manufacturer.
From Blue Fuchs, the best-selling MHL250 long-reach wheeled materials handler will be on show.
Also, as seen at last year's exhibition, the entire two-storey stand structure and hospitality areas will comprise elements from a BlueMAC bespoke MRF system, while a BlueMAC mobile AMS (all-metal separator) and trommel will be prominently showcased.
The benefits of buying quality pre-owned equipment from Blue Used will also be demonstrated, highlighting the accessibility of marketing-leading equipment for those with more restrictive budgets.
The BlueMAC Mobile AMS is a track-mounted, self-propelled machine designed to separate both ferrous and non-ferrous metals from an incoming waste stream. Maximum throughput for the agile and versatile recycling machine is up to 90 cubic metres per hour, while output, depending on materials and density, is up to 45 tonnes/h.
The Fuchs MHL250 is a 15-tonne class long-reach wheeled materials handler with compact dimensions designed specifically for the recycling market. It features a 9m reach, four-point hydraulic outriggers and a low-emission engine that generates 85kW. The operator's cab on the display model features optional hydraulic elevation giving a 5.2m raised line of sight for optimum loading and site visibility during working cycles.
The Doppstadt AK 510 K crawler-mounted mobile shredder featuring a new flail system is designed specifically for wood and green waste processing, and offers large volume capacities for even more intensive shredding of tree-trunks, roots, pallets, building timber waste, and organic waste. Alongside the AK 510 K will be a special booth for demonstrating and explaining the innovative and recently launched splitter technology from Doppstadt.
New to Blue Group – and making its UK show debut – will be the AirBasic, which is the latest development of the patented Westeria mobile air-separator technology. Robust and with numerous features for easy operation and maximum productivity, the Westeria AirBasic has infinitely variable control for handling and sorting a wide variety of waste streams, including mixed C&D waste, glass, timber, compost, commercial waste and secondary metals.
Adding another string to their bow, Blue Group will be using this year's show to launch their distributorship for the range of high-capacity, heavy-duty trommels from MDS International. With a throughput range from 150 to 1,000 tonnes/h, the MDS trommel programme offers the demolition, recycling and quarrying industries a turnkey solution to the heavy-duty separation of both quarried rock and recycled aggregates. Blue Group are the appointed distributors for MDS equipment in England, Scotland and Wales.
Stand: 5V160–X161