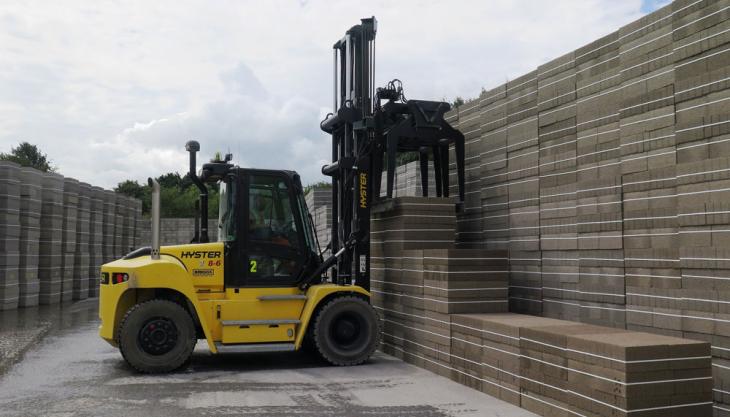 Hyster adopt a new approach to the challenge with updated 8–16-tonne lift-truck series
DUSTY working conditions are prevalent across the construction materials supply chain and can cause big problems for fork-lift operations. Hyster Europe are taking a fresh approach to these challenges with their updated 8–16-tonne lift-truck series.
'Whether operations are handling bricks, blocks, aggregates, precast concrete or other building materials, you'll find tough outdoor conditions where high levels of dust and dirt are the norm,' said Botros Hanna, industry manager for Hyster Europe. 'This can impact operators' comfort levels as well as uptime for lift trucks handling construction materials unless they are properly protected.'
For example, lift-truck filters can quickly become clogged with dirt, leading to cooling problems. The required extra maintenance and related downtime not only increases the overall cost of ownership, but also impacts the efficiency of the operation.
To help overcome this, the Hyster H8-16XM range of heavy-duty lift trucks is available with on-demand cooling fans featuring auto-reverse cleaning for reduced fan-induced dust. The 8–16-tonne capacity trucks also feature a high-mounted air-intake system, heavy-duty pre-cleaner and special breathers to provide added protection from tough, dusty conditions.
To help prevent additional damage and wear to truck components, Hyster lift trucks also feature automatic greasing, which helps to push the dust and dirt away from critical wear points. Moreover, vented hoods and a truck belly pan designed to prevent the ingress of dirt and debris from underneath the vehicle support arduous construction material-handling operations.
'By preventing the effects of dust and dirt on Hyster fork-lift truck components, operations can see fewer breakdowns and maintenance costs reduced. In fact, we have seen some similar applications experience a 30% reduction in their total fleet running costs, as well as experiencing improvements in efficiency,' said Mr Hanna.
Operators also play a vital role in contributing to overall operational efficiency, so providing a comfortable working environment that protects them from harsh conditions is key.
'High levels of dust should be cause for the employer's concern with regards to operator comfort. Operations can be fined by the authorities if high amounts of dust are found to be entering the cabin, as this poses a risk to the operator,' explained Mr Hanna.
To improve the driver environment, an enclosed pressurized cabin can be added to the Hyster H8-16XM range of lift trucks. The high-comfort cab is sealed with a separate air-filtration system to reduce dust in the cabin, and can also include air-conditioning for operations with high ambient temperatures. Optional vinyl seats also help to avoid the accumulation of dust inside the cabin compared with fabric seats.
The Hyster H8-16XM series was also recently updated with a new mast and carriage, allowing operators to look through and over the carriage for improved visibility of the forks, load and any attachments. With added strength from the innovative new mast, and a robust frame, operators also benefit from greater stability in their working environment.
'With solutions to tackle dust and dirt while keeping operators comfortable, Hyster lift trucks are suited to operations throughout the entire construction supply chain,' said Mr Hanna. 'However, to experience maximum efficiency and uptime, and a low cost of ownership, we work closely with customers to provide 360-degree solutions that meet the differing demands of each particular application.'