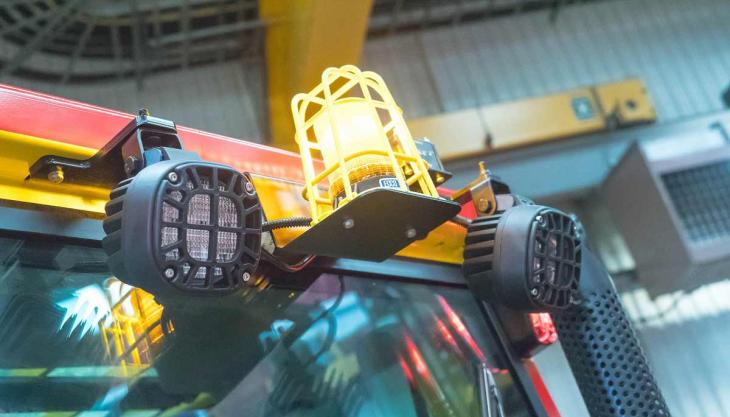 Manufacturer helps keep supply chain on the move with fork-lift truck range packed with driver safety features 
HYSTER have introduced their Fortens lift-truck series which, they say, has been specially designed for minimizing downtime and optimizing productivity in materials-handling operations. 
'Safety, productivity and reliability are all of paramount importance to operations, such as construction materials manufacturing,' said Botros Hanna, industry manager for Hyster Europe. 
'To minimize costs and downtime and maximize return on investment, it is crucial to select materials-handling equipment that helps operators to avoid damage.'
The 3.5-tonne Hyster H3.5FT lift-truck, for example, has been designed with good driver awareness features as standard and is a popular choice for handling building materials, eg bricks, tiles, cement bags, aggregates, insulation materials etc.
The fork-lift series also comes with an operator cab that provides good visibility, optimal comfort and intuitive controls, all of which help contribute to better awareness and accurate operation. 
'Warehouse space is often tight in the construction materials supply chain,' commented Mr Hanna. 'A range of add-ons, such as object-detection systems, cameras and lights, are available to support drivers when manoeuvring in these areas.'
Hyster's object-detection solutions are available to offer support to the driver in identifying nearby hazards which, in turn, potentially avoids costly damage. The solutions include visual/audible alerts and a collision-avoidance system that immobilizes or slows the lift-truck down if the sensors detect an obstacle.
For added safety, Hyster's camera system enhances visibility, making it possible for operators to view the immediate area surrounding the lift-truck and its load. Flashing front/reverse lights and pedestrian awareness spotlights can also be specified to help alert pedestrians to fork-lifts on the move.
To ensure supply chain efficiency, overload-detection systems can be integrated into the Fortens lift-trucks for operations challenged by handling loads with variable or unknown weights. This helps drivers adjust their operation according to the load, reducing truck wear and subsequent maintenance and downtime.
To further support operations in maximizing productivity and minimizing downtime, the Hyster H3.5FT features an auto deceleration system that helps reduce tyre and brake wear by up to 50%.
The lift trucks also include load-sensing hydraulics that help reduce fuel consumption while increasing efficiency.
'Built-in durability and extended service intervals deliver a low cost of ownership for companies operating in the construction supply chain,' said Mr Hanna. 'But, if maintenance is needed, our network of local dealers has the capability to get trucks up and running again quickly.'