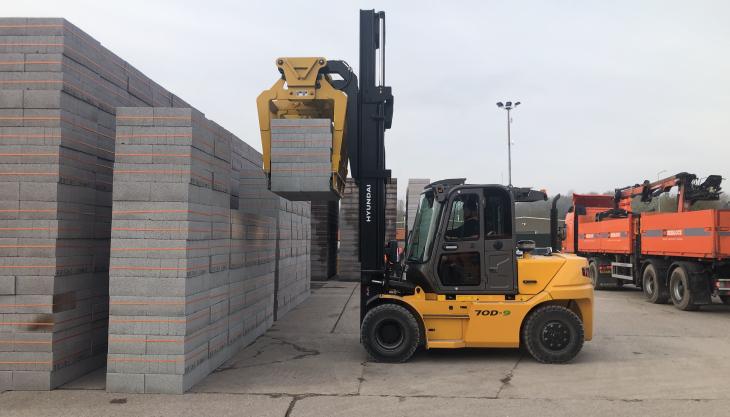 New Hyundai fork-lift truck distributors Compact Fork Truck secure new deal with masonry manufacturer
WHEN Telford-based masonry manufacturers Besblock purchased a 7-tonne Hyundai 70D-9 diesel forklift truck from Compact Fork Truck – Hyundai's new material handling equipment distributor for the West Midlands area, the company was so impressed with the machine they placed an order for a second 70D-9, which is currently on route from Hyundai's European headquarters in Belgium.

Compact Fork Truck sales manager Greg Silvers explained: 'I have been selling fork-lift trucks within the Midlands area for more than 13 years and have driven past Besblock's factory on many occasions. In the last few years I have built up a relationship with the team and an understanding of their operations.'
When the requirement for a new fork-lift truck arose, the brief was simple; a robust and reliable fork-lift capable of safely operating in the busy environment of one the UK's largest concrete block manufacturing plants.
'Productivity and operator comfort were key priorities,' said Mr Silvers. 'Besblock operate on a 24/7 basis and the drivers literally don't stop. Unlike their previous machine which required regular downtime of up to an hour to regenerate, the Hyundai 70D-9 has an AdBlue system that means no valuable working time is lost.
'Driver comfort also needed to be addressed; working a whole shift without leaving the cabin meant it was essential to have an extremely comfortable working environment,' added Mr Silvers.
The Hyundai 70D-9 addresses this need with its spacious, fully enclosed cabin, Grammer air-suspension seat, air-conditioning, radio and MP3 player. Safety features include a panoramic front screen with front, top and rear wipers, rear-view mirrors, safety lighting, beacon, rear CCTV and full road lighting with additional bespoke LED lights to suit Besblock's special requirements.
Besblock's truck is fitted with a bespoke integral double block clamp, which was manufactured by Fabcon Engineering in Co. Tyrone, supplied by WESCO Engineering Services in Somerset and co-ordinated and fitted by Compact Fork Trucks in the Midlands. The same process will be repeated with the new machine when it arrives in the UK.
'Besblock have been really pleased with the first truck and its performance,' said Mr Silvers. 'They say the 70D-9 and its Cummins engine outperforms their existing equipment, whilst giving the driver the comfort and visibility needed for long operational shifts. And by dealing with a local fork-lift truck supplier, their service, support and response times have also hugely improved.'