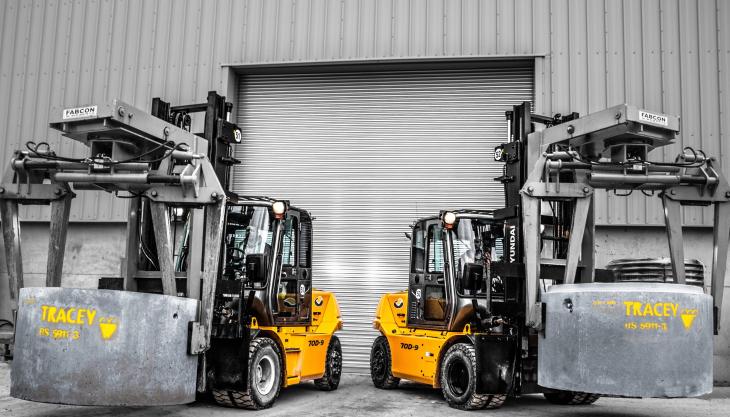 Precast concrete products manufacturer acquires two new Hyundai 70D-9 fork-lift trucks
JD Forktrucks, based in Newtownabbey, Northern Ireland, have recently completed a deal with Enniskillen-based precast concrete product manufacturers Tracey Concrete for two brand new 7-tonne Hyundai 70D-9 diesel counterbalance fork-lift trucks.
Tracey Concrete – a family-owned and run business that began trading in 1979 as a ready-mixed concrete company and has since grown into one of the largest precast concrete manufacturers in the UK and Ireland – specialize in precast drainage, bespoke tunnelling, and high-level engineering and building products.
The company has an existing fleet of 38 fork-lifts trucks, mostly ranging from 3 tonnes to 5 tonnes, and had not considered the Hyundai brand in the past. In early 2018, Martin McAfee, sales manager with JD Forktrucks, contacted Tracey Concrete to introduce them to Hyundai and JD Forktrucks.
As the company was expanding and the workload increasing, Tracey were in the market for some larger trucks, as director Anton Tracey explained: 'We were looking for bigger machines and knew that Hyundai made a 7-tonne machine. We got in touch with Martin and told him what we needed. He pitched the Hyundai brand well and highlighted all the features. He also offered a reasonable package.
'We decided to go ahead with the deal and ordered the Hyundai machines, which arrived in very good time in December. Although it's early days, we are very happy with the machines so far.'
Both machines are fitted with Fabcon Engineering lifting attachments, which are permanently fixed to the trucks, allowing them to perform their daily duties of shifting and loading heavy manhole rings. The forklifts work approximately 10-hour shifts and so need to be robust and reliable.
Anton Tracey said: 'The operators that moved over from our other fork-lift trucks on to the new Hyundai machines like them and say they have many advantages. They particularly like the better visibility the 70D-9 offers and the high-spec, comfortable cab with its excellent suspension.
'They also say the machines are user-friendly and easy to get used to. They are also steady on uneven ground and can handle all terrains. The operators also like the in-cab entertainment system with Bluetooth.'
Tracey Concrete are looking to add to their fork-lift fleet as the business continues to grow and are planning on future investments and refreshing their existing fleet. 'We are growing our fork-lift fleet and in any future investments would definitely consider Hyundai and JD Forktrucks again,' said Mr Tracey.