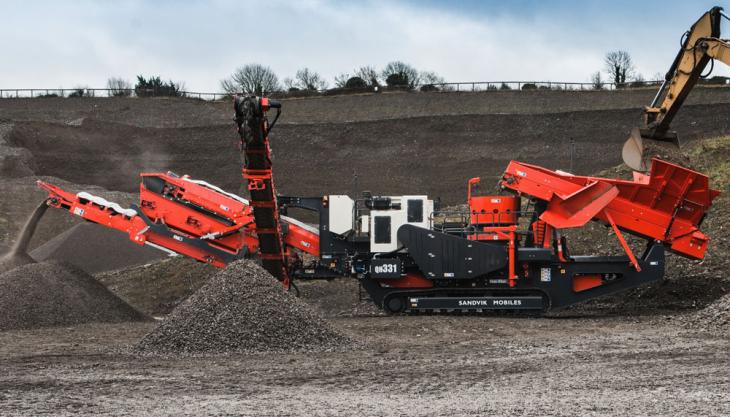 One of company's best-selling crushers to star at Ireland's construction and quarrying show
SANDVIK will use this year's CQMS exhibition event at Molloy's Quarry at Tinnycross, near Tullamore, Co. Offaly, Ireland (21–22 April) to showcase one of their bestselling cone crushers – the QH331.
The QH331 is a compact tracked machine designed to meet high product quality demands through the use of the renowned Sandvik CH430 Hydrocone crusher, which offers a choice of six different crushing chambers and a variety of bush settings.
A key attribute of the QH331 is the advanced design of the CH430 cone, which possesses a longer and steeper crushing chamber than other comparable models. As a result, material remains in the crushing chamber for longer, optimizing reduction and providing a superior product shape. The maximum feed size is 185mm.
The CH430 comes equipped with a hydroset CSS (closed-side setting) regulation system, which allows the CSS to be adjusted, via the main control panel, while still crushing. The automatic setting regulation system not only optimizes production, but also keeps track of liner wear to minimize interruptions and downtime.
According to Sandvik, the QH331 track-mounted cone crusher is an environmentally friendly, economical and highly efficient machine. Powered by a Cat C9 or C9.3 engine with direct drive, this latter change allows the QH331 use its power more efficiently and enhances its operational capabilities through tighter closed-side settings and larger bush variations.
Safety has been at the core of the development of the QH331, all models being fitted with a camera that overlooks the crushing chamber together with a screen in the control unit, thereby improving operator safety and providing greater control over the crusher.
Designed as a flexible, user-friendly and efficient crushing solution, other key features of the QH331 include:
Level sensor to help regulate the feed and optimize production, reduction and shape
Unique constant liner performance for extended life of chamber liners, to minimize downtime and costs
Hydraulically driven cooling fan with auto-reverse function, to back flush dust from the radiator, thereby saving time and effort and maximizing uptime
Bridge coil metal detector fitted over the feed conveyor for enhanced and more controlled detection of tramp material
All engine service points easily accessible, with low-level drain points for ease of maintenance
Capable of working in environments up to 50°C without the need for oil changes
Enhanced fuel economy providing lower cost of ownership and up to a 45% reduction in emissions, thereby delivering a lower carbon footprint.
An optional hanging screen system available on Sandvik's Premium range of cone crushers allows the flexibility to produce a screened product with recirculation back into the feed hopper. The 13ft x 5ft (4m x 1.5m) screen comes complete with a hydraulically rotating re-circulating conveyor and extended (1.75m longer) main conveyor.