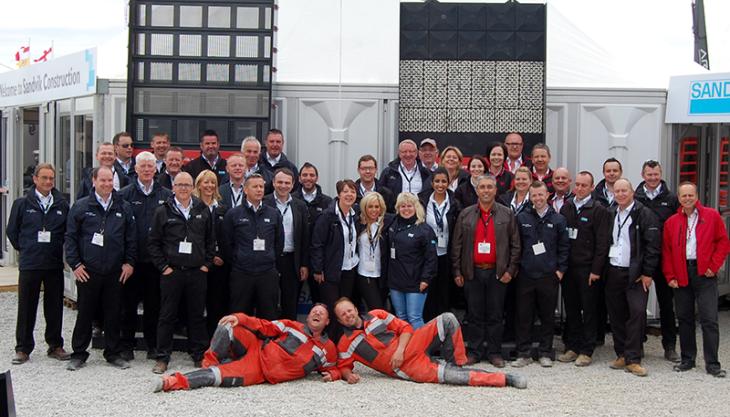 Sandvik Construction broke all records at Hillhead 2014 with nearly 4,000 visitors coming to the stand from all over the world in order to see Sandvik's offering at first hand. Furthermore a significant number of equipment enquiries were received, many deals completed, and the customers welcomed in the traditional Sandvik manner.
With the economic recovery gathering momentum, particularly in the UK, and confidence returning to the mineral products industry, the organizers of Hillhead 2014 reported record attendance of nearly 20,000 visitors at this year's show. This saw Hillhead proving to be the perfect place for Sandvik to show, and vitally to demonstrate, examples from their total solutions product range at what has become the world's leading quarry, recycling and construction exhibition.
New and innovative equipment shown included:
Stationary crushing equipment – the new CH540
Mobile crushers and screens – the new hanging screen on range of cone crushers
Breakers  - the new 5011
Drill rigs – DI550 drill rig
Tools and consumables – the new Optiagg.
One of the things which makes the Hillhead exhibition almost unique amongst trade shows is the fact that visitors are not only able to just see static displays of equipment, but also watch live machinery demonstrations. This year was no different, and Sandvik took full advantage of the possibilities presented by demonstrating the following equipment:
A QJ341 feeding a QH331 cone with new hanging screen - global launch
A QJ341 feeding a QS331  - UK show launch
A QA331 screener.
Sandvik Construction would like to express a big 'thank you' to the organizers of Hillhead 2014, the members of the press for showing so much interest in Sandvik, but most of all to the customers who came to the Sandvik stand. Without them Hillhead 2014 would not have been the success it was, and all at Sandvik Construction look forward to seeing everyone in 2016.