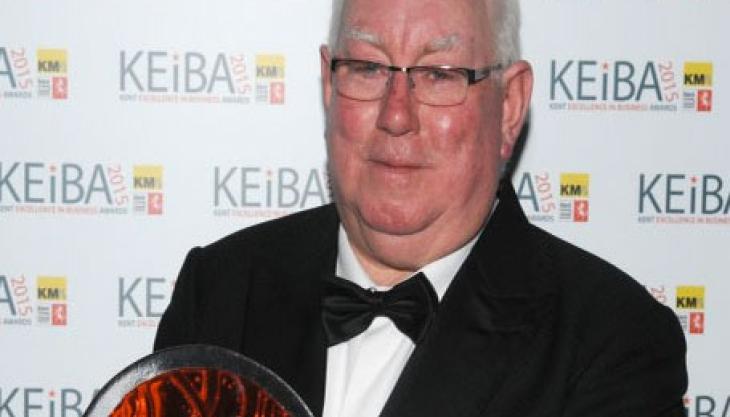 Gallagher Group boss receives top honour in 2015 Kent Excellence in Business Awards
PAT Gallagher, the founder and boss of Maidstone-based Gallagher Group, has been awarded the 'Outstanding Contribution to Business' award in the 2015 Kent Excellence in Business Awards (KEiBA).
Mr Gallagher, who has built a £75 million building, civil engineering, aggregates and property development empire in the county, started out in business some 40 years ago with just one digger.
The sixty-six-year-old Irishman was chosen to receive the KEiBA award not only for his business success, but also for what he has done for the people of Maidstone and Aylesford, and Kent in general.
The judges said his creation of a successful company, support for Kent businesses, contribution to good causes and restoration of quarried areas revealed both a talent for enterprise and concern for the environment and the community.
While some of Pat Gallagher's donations have been made public, others have remained below the radar, such as helping a child undergo a life-saving operation.
Mr Gallagher worked with the Kent Messenger on the successful £200,000 Maidstone Hospital Scanner Appeal, with Gallagher Group contributing the initial £50,000, and he has given generously to Aylesford Bulls RFC, Leybourne Lakes Country Park and Royal British Legion Industries' Garden of Honour.
His name is also over Maidstone United's football stadium, and he contributed £100,000 towards improvements following the club's promotion.
Mr Gallagher, who admits to getting a 'quiet buzz' from helping good causes but prefers not to make a big thing of it, said he was 'blown away' to receive the award.
The grandfather of five, who remains a proud Irishman at heart, has a deep love of Kent and regards the county as his home. 'Kent has been a land of opportunity,' he said. 'It's been a great place to do business and I'm very upbeat about the future.
'I feel we do things right, we're not corner-cutters. We have grown and changed, and in 10 years we will have changed again, but always working on quality, making good profits, reinvesting them, and looking after people.'