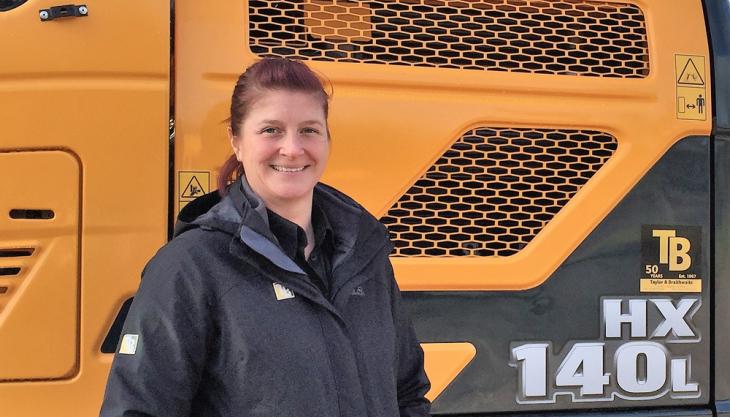 Bev Walker joins plant and machinery dealer as Hyundai sales representative in the North
CUMBRIA-based plant and machinery dealers Taylor & Braithwaite (T&B) have recently appointed Bev Walker as their new Hyundai sales representative for East and West Yorkshire.
T&B's portfolio includes major brands such as Hyundai Construction Equipment, Maximus and Rubble Master, but the Hyundai brand represents the largest increase in sales for T&B as their sales catchment area expands.
Having previously covered Northumberland, Tyne and Wear, Cumbria, Durham, North Yorkshire and Lancashire, T&B have expanded into East and West Yorkshire and now cover all of the North of England.
T&B director Ian Burton said: 'With the expansion and the continuing success of the Hyundai brand, we thought this would be the perfect time to add a new member to our team.
'Bev will be covering East and West Yorkshire selling and promoting the Hyundai range to both new and existing customers, in addition to introducing T&B into the new sales area.'
Mr Burton added: 'Bev brings a wealth of experience with her and we are very much looking forward to gaining from her experience and vast knowledge of the construction machinery industry – she is an excellent addition to the team.'
Ms Walker previously worked for Caterpillar dealers Finning UK for almost 17 years. For the majority of that time she was a specialist in the used equipment area and her responsibilities included handling trade-ins, dealers and retail sales.
Commenting on her new appointment, Ms Walker said: 'I am really excited about the challenge of a new company and change of role. T&B have an excellent set up and Hyundai is a respected brand.
'The company is also well established in its current territories. I am ambitious and looking forward to taking T&B forward and growing both the company and Hyundai's market share in the region.'