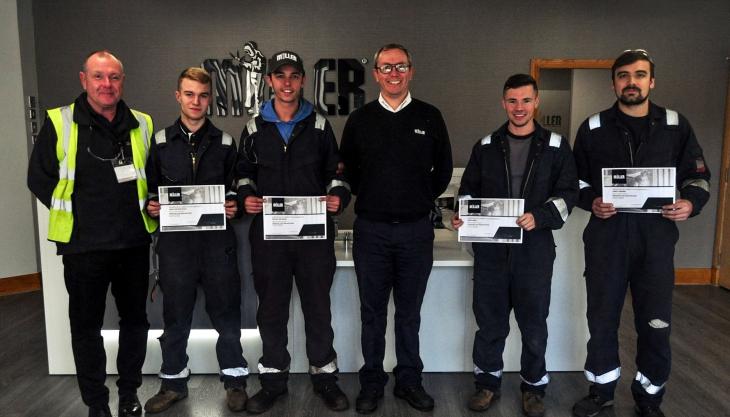 Five more apprentices complete four-year engineering apprenticeships at Miller UK
EARTHMOVING equipment manufacturers Miller UK's long history of supporting local North East talent continues with five more final-year apprentices about to complete their advanced engineering apprenticeship next month.
Introduced in 1988, the Miller apprenticeship scheme has been running for more than 30 years and the company currently has a total of 17 former apprentices who are still employed on a full-time basis.
As of this month, that number is set to rise to 21 as four out of the five final-year apprentices who have successfully completed their four-year training course have accepted full-time contracts with the Cramlington-based company.
One of the most pressing industry challenges over the last few years has been the skills shortage and the ability to recruit skilled workers with experience in heavy manufacturing. The Miller apprentices, in conjunction with TDR training, have developed a range of heavy manufacturing skills, including engineering, fabrication and maintenance.
By maintaining a steady intake of apprentices, Miller are making an ongoing contribution to retaining important industry skills that support both the regional manufacturing sector and the local economy, as well as contributing to the company's own growth plans.
Stephen Brown, operations director at Miller, said: 'One of the challenges we face is a skills shortage and being able to recruit skilled workers with experience in heavy manufacturing. The apprenticeship scheme gives us the opportunity to invest in new young talent who can develop the necessary skills on the job.
'We're lucky to have the opportunity to develop the next generation of engineering and manufacturing talent, and we hope that many of the apprentices joining us in October on a full-time basis will go on to have long and successful careers at Miller.'