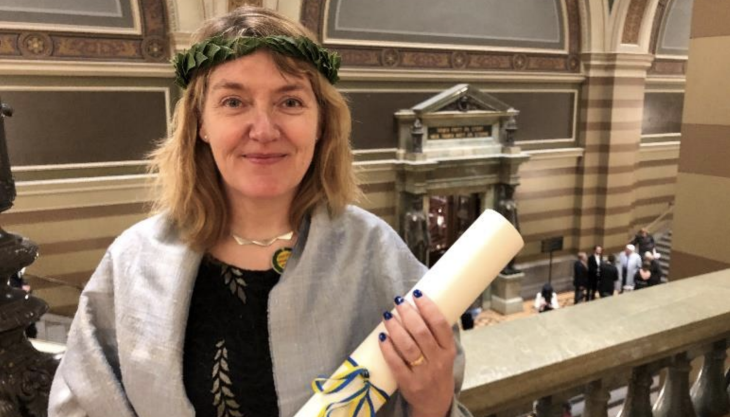 Dr Karen Hanghøj recognized with honorary doctorate degree from leading Swedish university
THE director of the British Geological Survey (BGS), Dr Karen Hanghøj, has been recognized for her outstanding contribution to geological research by one of Sweden's top-ranked universities.
Dr Hanghøj was awarded an honorary doctorate degree by Uppsala University at a special graduation ceremony in Sweden on 31 January 2020.
Honorary doctor, or doctor honoris causa, is a title awarded to those who have made an outstanding scientific contribution or otherwise promoted research at the university and are considered role models for the research community.
The degree, awarded by the Faculty of Science and Technology, recognizes Dr Hanghøj's contribution to geoscientific research, especially in the field of raw materials.
Over recent years, Dr Hanghøj has served as chief executive officer for EIT RawMaterials, the world's largest consortium in the field of raw materials, in which Uppsala University is a partner.
During this time, she enabled the university to make strides in key research areas related to, for example, battery materials, mineral exploration and circular economy and recycling.
In autumn 2019, she took up the post of director of the British Geological Survey, the UK's leading geological research insititute.
Speaking about her doctorate, she said: 'I'm humbled to be recognized in this way. Geology's role in society is underestimated and I'm honoured that institutions like Uppsala University are helping to bring attention to its importance.'
Before the ceremony, Dr Hanghøj, who already holds a PhD in geology, gave a presentation to staff and students at Uppsala University and the Geological Survey of Sweden (SGU) on the importance of raw materials supply and demand for a greener economy.