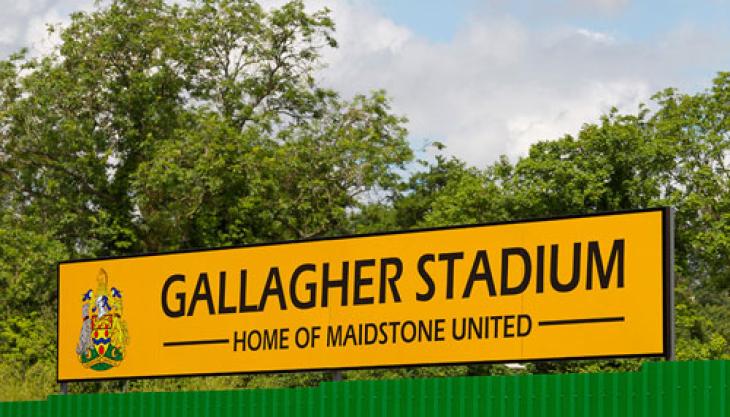 Kent quarrying firm gives Maidstone United stadium redevelopment scheme a boost
THE home of Maidstone United FC is to be known as the Gallagher Stadium until at least 2022, after Gallagher Group, the Kent-based quarrying, construction and property business, extended their naming rights agreement two years early to provide support for a stadium redevelopment scheme.
Despite the current deal running until 2017, Gallagher have paid £100,000 immediately to help the club finance a £600,000 project which will see the stadium's capacity increase and the main stand almost double in size, providing an extra 350 seats, a new supporters' lounge and additional terracing behind both goals.
Club chief executive Bill Williams said: 'For the second time in as many years, the Gallagher Group have shown us such wonderful generosity. The company's significant contribution has boosted our fund-raising efforts for this summer's stadium improvement work.
'Adding extra seats is a priority but this work will also increase the capacity. On a number of occasions during the past few years we've had sell outs, so by going up to 3,000 it will give more families the opportunity to come and enjoy those big games.'
Gallagher Group chairman Pat Gallagher said: 'Maidstone United returning to the town was always going to be great but you would have struggled to imagine the enormity of their impact.
'It was clear to us very early on that Terry, Oliver and the team around them were worth backing, and so it has proved. It is a privilege and a pleasure to be associated with the club, and to bring forward our sponsorship to help them take the next step in their development.'
The Gallagher Group have been associated with the club for a number of years but took their sponsorship to new heights in 2011 when they became the principal contractors in the construction of the new stadium.
2012 was a memorable year for both the club and the company. On New Year's Day it was announced that the venue would be known as the Gallagher Stadium and seven months later a capacity crowd witnessed the club's homecoming in a friendly match between the Stones and Brighton & Hove Albion.
This season the Gallagher name was beamed around the world when Maidstone beat Stevenage in a televised FA Cup first-round replay.