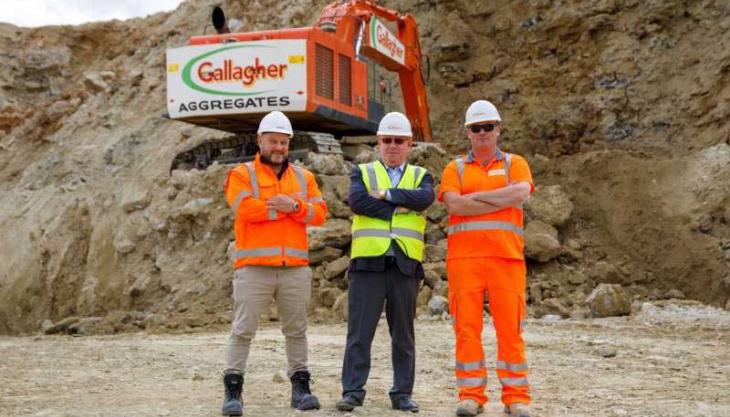 Kent-based company celebrates Hitachi's 50th anniversary as it prepares to mark its own half century
AS Hitachi Construction Machinery UK (HCMUK) celebrate their 50th anniversary this year, one of their loyal UK customers will soon reach the same milestone. Over the last 49 years, Kent-based Gallagher Group have become one of south-east England's leading building, civil engineering, quarrying, and property development businesses, employing more than 500 people.
A Hitachi customer for more than three decades, Gallagher Group have invested in hundreds of machines over the years. Today, their fleet for construction and civil engineering projects comprises more than 100 models ranging from three to 35 tonnes. In addition, the quarrying part of the business utilizes seven medium and large excavators ranging from 35 to 85 tonnes.
The roots of the company extend back to a small groundwork contracting business, established by Pat Gallagher in 1973. Now chairman of the Gallagher Group, he explained the reasons why he has continued to invest in Hitachi construction machinery: 'First, I look at residual value – you can sell a Hitachi anywhere in the world. Second, reliability – you turn the key and it performs. Third is driver comfort. Hitachi scores highly on all three.'
The company, which keeps its new machines until they reach 8,000h and then trades them in for new models approximately every three years, has developed a strong working relationship with representatives of HCMUK, as Mr Gallagher testified: 'What they say they'll do, they do. That's all we need. And when you have a problem, they are there to help you.'
Looking back over the last 49 years, Mr Gallagher said: 'We started at zero and have come a long way. I wanted the very best of whatever I was involved in. I've still got that ambition to be the very best at everything we do. We have an expression within the business: 'Excellence. Delivered.' I still want to be excellent and 50 years on, it's even more important to us. Now I'm looking to the next 50!'