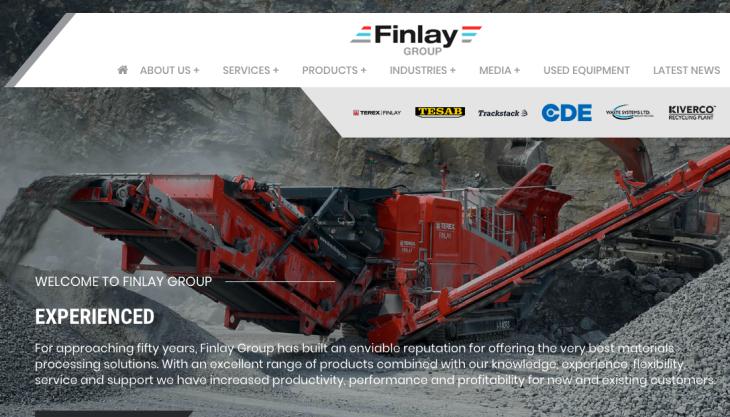 Company extends its online presence to visitors with new cutting-edge web platform
THE Finlay Group have brought together all elements of their material-handling business into a new, innovative website that captures the scope and scale of the company in a digital format.
The new cutting-edge platform, www.finlaygroup.com, has been developed to showcase the company's solutions and how they deliver performance, productivity and profitability for clients.
It explores all parts of the Finlay Group – who offer the latest equipment from leading manufacturers serving the mining, quarrying, aggregates, construction, demolition, waste, recycling and soil stabilization industries.
Rik Kiddle, sales and marketing director at the Finlay Group, has led the project. He said: 'The website has enabled us to better reflect the full range of manufacturers and products that we represent as a business.
'Most importantly, our customers will have access to more information about us, our ranges and services, as well as the industries we serve and support.'
The site features comprehensive product information and images, as well as downloadable brochures and specification sheets – and a new search facility, which allows users to search for used equipment by year, hours or budget, quickly and efficiently.
Visitors can also catch-up on the company's latest news, watch videos of the machines in action and hear about other people's experiences with their plant in Finlay Group's extensive testimonial library.
In tandem with the introduction of the website, the Finlay Group have also launched new social media channels, including Facebook, LinkedIn, Instagram and Twitter, to run alongside their existing YouTube channel.
Mr Kiddle added: 'Our new social media channels will allow us to stay better connected with our customers and give us the chance to interact over the latest industry news, recent product launches and even competitions.'
The Finlay Group have also introduced The Conveyor, a quarterly magazine featuring the company's latest case studies and product news. Back issues are available to view and download from the new website.