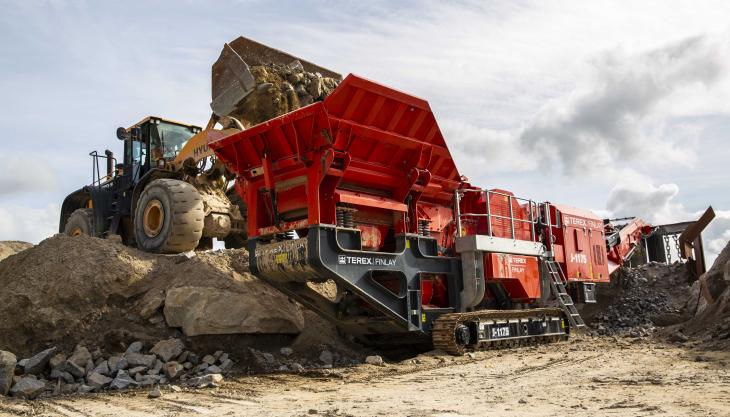 Plant hire company takes delivery of fourth-generation mobile jaw crusher from Finlay Plant SW
EAST Midlands-based plant hire company MMC Southern have purchased their fourth Terex Finlay J-1175 mobile jaw crusher after being the first company in the UK to trial the original prototype of the plant in 2002.
The company's new fourth-generation machine, which was purchased from Finlay Plant SW, part of the Finlay Group of companies, is currently powering through 300 tonnes of granite per hour at Carnsew Quarry in Cornwall.
Denver McCullough, one of the four directors of MMC Southern, said: 'We have a great working relationship with Finlay Plant SW and have had a lot of machines from them over the past 20 years, and never been disappointed. The Terex Finlay J-1175 is definitely capable of processing more material, but we have to make sure that the secondary plant can keep up with it.'
The tracked mobile jaw crusher features a Terex Jaques JW42 jaw crusher and a heavy-duty vibrating grizzly feeder for optimum production. Due to its compact size, quick set-up times, ease of transport and simple maintenance, the model is well suited to quarrying, mining, demolition and recycling applications.
The machine's fully hydraulic closed-side setting minimizes downtime and offers quick adjustment, whilst its deeper hopper sides were a bespoke feature for MMC Southern – fitted by Finlay Group's own engineering team – to help increase production.
Brothers Denver, Nigel and Thomas McCullough grew up with a passion for the industry as their father owned a quarry in Northern Ireland when they were children. In 1998 they teamed up with Michael Merriman to establish MMC Southern, a plant hire and earthworks company.
Gareth Johnson, of Finlay Plant SW, said: 'We've worked closely with MMC Southern over the years and it's been fantastic to see the Terex Finlay J-1175 become such a valued player within the company. The crusher is well respected within the industry for its high performance and versatility.'