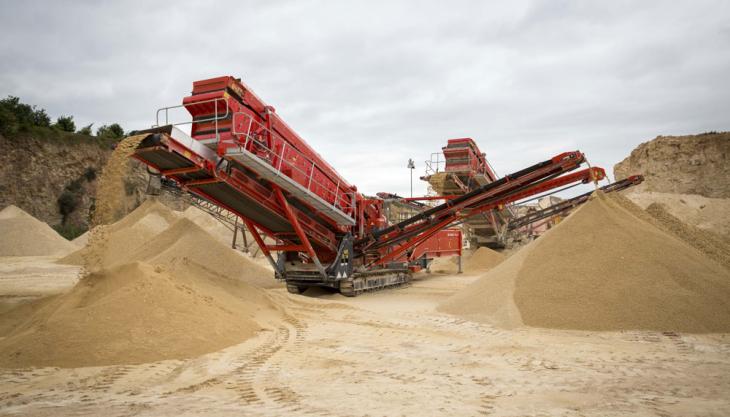 Terex Finlay 693+ and 694+ from Finlay Plant Northern open up new markets for FCC Environment 
ONE of the country's leading waste and resource management companies is reporting a significant improvement in its product quality thanks to innovative plant from Finlay Plant Northern.
Since the arrival of their new Terex Finlay 693+ and 694+ machines, FCC Environment say they have seen a 50% increase in the saleable amount of undersize product, giving the company confidence to tap into new markets.
Both machines are working in tandem at Barnsdale Bar Quarry, near Pontefract – one of six limestone quarries in Yorkshire belonging to Darrington Quarries, part of the FCC Environment Group.
Andy Archer, quarry manager at Barnsdale Bar, has been impressed with the capabilities of the new machines and the value they are bringing to the business. He said: 'The Terex Finlay 694+'s versatility is a major advantage to the company. The biggest selling point of the machine for me was its screenbox, which features three full-sized 20ft screens.
'With a larger and more efficient screening area, we are processing a higher volume of material to a much better quality. We've never had so much 10mm product in stock.'
Meanwhile, the robust Terex Finlay 693+ features two full-sized 20ft x 5ft screen decks, and with a combination of quick wedge tensioning on the top deck and hydraulic tensioning on the bottom, it ensures that mesh set-up and change-out times are kept to a minimum. The machine's three conveyors allow FCC Environment to produce 75mm oversize, 75–40mm clean stone and 40mm aggregate.
The 40mm product feeds directly into the Terex Finlay 694+ tracked mobile inclined screen. This unit features an innovative hydraulically folded fourth conveyor that allows simple adjustment with variable tilt and slew discharge for the recirculation or stockpiling of finished material.
Together, the two machines power their way through around 1,400 tonnes of material a day, with the Terex Finlay 694+ producing four products: 40mm, 20mm, 10mm and –10mm dust.
Andy Archer explained: 'The Terex Finlay 694+'s four-way spilt has enabled us to produce an additional material, something we weren't able to do before. This means we can now approach different markets as we are confident we can supply them with what they want.
'Finlay Plant Northern have not disappointed us either; we have a great working relationship with them and their aftermarket servicing is really important to us.'
Finlay Plant Northern, part of the Finlay Group of companies, have worked alongside FCC Environment for around 20 years and supplied them with seven machines, including impact and jaw crushers as well as screening plant.
Martin Nairn of Finlay Plant Northern helped specify the machines. He said: 'It's great to see the plant proving so much worth to the company. I'm looking forward to working with Andy and the team in the future.'