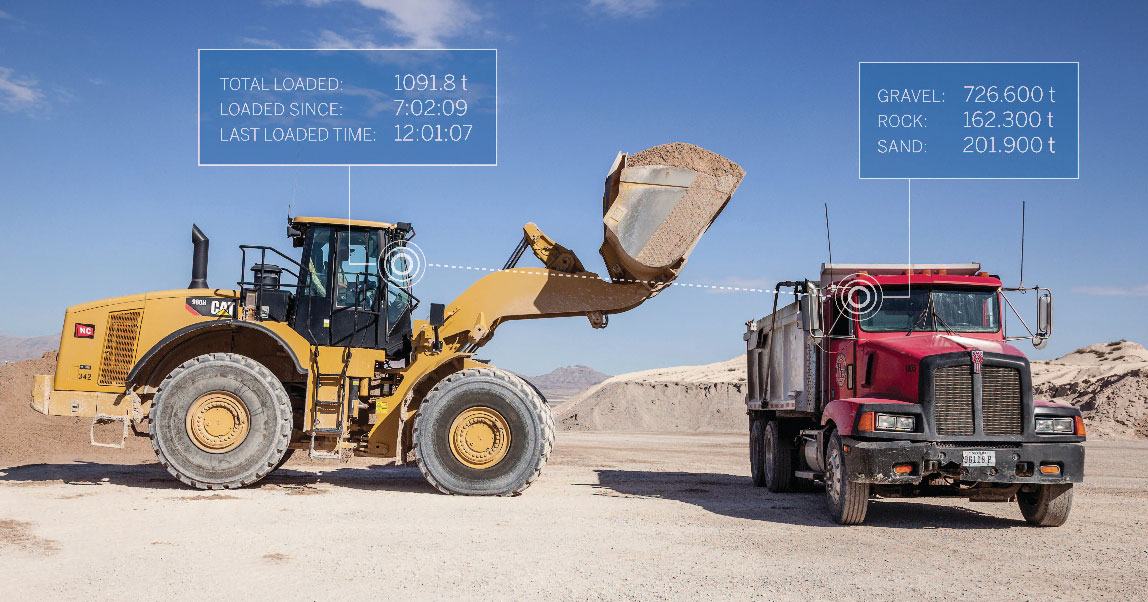 First published in the March 2018 issue of Quarry Management
Modern on-board scales can empower sites to be more cost-effective, with faster, more accurate loading workflows. Simon Rush outlines the strategies operators and managers should employ when selecting on-board scales and weighing systems for their earthmoving plant and equipment.
On-board loader scales have long been a cornerstone of measuring equipment for quarry operators and other load and haul operations in construction, mining, waste management, recycling, logging etc. Recently, loader scales have evolved dramatically to not only provide highly accurate payload weighing, but also load location via GPS,
Wi-Fi connectivity, colour touch-screen displays and more.
Modern on-board scales empower site managers and operators to be more productive, with faster and more accurate loading workflows. This includes loading cycles for all operations, such as pit loading, truck load-out, crusher feeding and material handling. Sophisticated on-board scales let operators and managers track production data, optimize truck loading and eliminate overloads that can lead to costly fines. Not only that, fleet and site managers have greater visibility into overall site operations, with real-time access to reliable and consistent payload data.
Loader scale adoption
Like most technology, wheel loader scales and weighing systems are evolving to become simpler, easier to use and less costly. Part of that progression has been shaped by the proliferation of connected solutions and mobile applications used in all aspects of work and play, including smartphones, tablets, GPS devices etc. In essence, people and enterprises are getting more comfortable and confident in leveraging technology as it delivers on key promises of convenience, increased accuracy, reliability and automation.
Organizations looking to install or replace payload measurement systems for next-generation, on-board scales to maximize payload optimization should think through the following three considerations before moving forward:
1. Evaluate and prioritize requirements
Organizations looking to evaluate on-board scales and weighing systems should first prioritize the needs of key stakeholders. This might include looking at requirements for operators, site and fleet managers, or customer reporting or billing needs. They should evaluate how each group will interact with the weighing and reporting system. For example, some scales for wheel loaders may give managers access to reports and data about tonnes moved per day, but operators receive these reports hours or days later. Other on-board weighing systems provide real-time visibility with payload data that is continuously displayed in the cab. This allows users to access reports instantly and track real-time product tonnage, customer information, and date and time stamps.
2. Focus on the biggest impact for ROI
When evaluating loader scales, be sure to assess areas that offer the biggest opportunity for return on investment (ROI) in operations. For instance, many operations might first focus on using on-board scales to accurately track the amount of material moved per hour or per day. This capability would allow site managers to collaborate with operators and set benchmarks to optimize productivity. Once users are comfortable with wheel loader scales, they might add scales to additional machines for a 'big-picture' view. They may also opt to capture a wider range of metrics, such as looking at machine utilization or cycle times to identify possible inefficiencies or process bottlenecks that are handcuffing productivity. This iterative approach will help quarry operators better understand the total cost of ownership (TCO) and ROI of on-board scales based on actual predictions for increased productivity and material moved.
3. Consider the interoperability of equipment
It is also important to consider the life cycle of on-board scales in the organization, plus other equipment and technology components used. The organization's technology infrastructure should be vendor-neutral and allow for easy data exchange between scales and machines, as well as the information flow between site managers and machine operators. When information can be shared freely across the job site in real time, project workflow is streamlined and productivity gains grow considerably. Another factor to consider is the long-term goals of the organization. There will be the need to evaluate the technology ecosystem that can grow and adapt as the business expands, adds equipment, or requirements change. Incremental adoption of technology and equipment is smart when each component can build on each other, works well together and meets the immediate and future needs of the organization. For example, the loader scale should be an integral part of the ecosystem. With the ability to capture data from other loaders, excavators, conveyor belts and haul trucks, the ecosystem will become a powerful yet essential management tool in the future. 
Evaluation criteria
Once an organization has determined its requirements, identified where the greatest ROI can be realized and evaluated its technology infrastructure, the next step is to find a technology solution that best meets the unique needs of the operation. Keep in mind the following considerations when evaluating the options available: accuracy, machine-to-machine and GPS connectivity, convenience and usability, and installation and support.
Accuracy
Accuracy is typically the most important consideration when it comes to evaluating wheel loader scales. Operators need accurate weight measurements to optimize payload operations. Today, most loader scales will achieve a ±1% margin of error accuracy or better, excavators better than a 3% margin of error, and conveyor scales better than 0.5%. With a quarry operation that moves 2,000 tonnes per day, a 1% change in accuracy quickly adds up to increased profitability. This could translate into thousands of pounds of extra revenue for a busy quarry over the course of a year.
When evaluating accuracy, look for wheel loader scales that offer:
Consistent weighing over a range of environmental conditions, such as temperature changes throughout the day, rough terrain and weighing on the move.
Premium sensor technology and multi-point weighing technology that provides a larger-scale 'sweet spot' for weighing. Be careful of technology that measures outside this sweet spot during lift phases where material is dropping from the bucket.
Slope compensation technology is essential because the stockpile yard may not be on a perfectly flat surface. In addition, when feeding the hopper, the loader is likely to go up a ramp.
It is also important to bear in mind that highly accurate, quality scale systems can help operators at all experience levels maximize productivity. This can mean savings in hiring and staffing, for example.
Modern smart scales go beyond accurate weighing to deliver simplified, machine-to-machine connectivity. This results in streamlined data collection and efficient data exchange.
Better connectivity options and information sharing are significant because the key to making effective decisions is having the right data and information available at the right time. Smart scales with embedded connectivity solutions and robust reporting and data-management capabilities make this possible by breaking down barriers to streamlined data flow and providing a holistic view of operations. Smart scales also empower operators to be more self-sufficient, with the ability to set personal benchmarks and focus on load-out efficiency and pit productivity directly from inside the cab. They can track who, what, where and how much material is moved at any given time. Specific options to look for include:
Reports that give real-time access to data by customer, product, machine or productivity. Does the weighing system let site managers calculate total performance across multiple machines or identify the high-performing operators each day? Look for reports that can show multiple scales, across quarry operations, on one report.
Dynamic visualization capabilities. Real-time data is good but only if the team can leverage it to quickly see key performance indicators, analyse trends and highlight any bottlenecks or issues. Look for colour-coded graph tools, table options and heatmap capabilities.
Electronic tickets are the new industry trend towards paperless workflows. In-cab mounted printer options are also useful. Operators can immediately print a load ticket to track individual trucks, daily or weekly load-out, and more.
GPS and connectivity options
As mentioned earlier, connectivity options are a critical component of modern smart scales. Bringing loader operations from the field back to the office is much more streamlined – not to mention less costly – when Wi-Fi and other connectivity options are pre-built into the on-board scale. This allows managers and operators to have a shared view of the production status. Operators can also receive orders directly in the cab and capture electronic ticket IDs that include time stamped and dated payload information, and send directly to customers. Look for scales that include:
Built-in Wi-Fi connectivity options, which allow for faster and cheaper communications networks. This will allow operators to cache and sync data via Wi-Fi, or they can use existing radio communications networks when needed.
Embedded GPS systems, which allow managers to precisely track inventory, monitor machine stress and schedule maintenance, or identify equipment with unused capacity. All of this is used to build reports and metrics that drive operations and optimize production throughout the operation.
Convenience and usability
With increased exposure to technology come increased expectations around technology convenience and usability. When it comes to loader scales, operators need on-board scale systems and displays that are uncluttered and easy to use, so they can focus on the job at hand. A dedicated display for payload data means this information is always available, rather than sharing the screen with other information that may be a distraction. This can include:
Touch-screen and larger displays. Loader scales that offer simple 'smartphone-quality' touch screens mean the learning curve for the scale systems is next to zero. Also, look for bigger, better displays that allow for larger text, which provide for easy reading and a better operator experience.
Installation and support
When shopping for an on-board scale or weighing system, look for partners who specialize in product knowledge and on-site support to prevent any slowdowns in operations. The right partner will ensure installation, calibration, training, regular scale maintenance and ongoing support are a top priority. When choosing a partner, look for one that provides:
Local, trusted support.
Global coverage to support enterprise-wide roll-outs.
Simple installation with no welding or cutting required – this helps maintain machine integrity and machine resale.
Support your future growth by offering technology beyond your current needs and across your operations (eg excavator, conveyor, loader etc).
The next phase
Today's hauling, mining and aggregate operators require advancements in on-board scales and weighing systems that offer simplified scale installation, touch-screen displays, Wi-Fi connectivity and embedded GPS positioning. These smart scales are supporting improved productivity and communication across the job site and allowing simplified data collection and data exchange. Looking ahead, advancements in smart scales and weighing systems will continue to help maximize payload optimization and empower operators to be self-reliant, with the information and confidence to identify bottlenecks and make smarter decisions about productivity and customer service. By focusing on the adoption strategies and evaluation criteria covered in this guide, organizations will be more informed and, therefore, more competitive. 
About the author
Simon Rush is global marketing communications manager for Trimble's aggregates, mining, weighing and marine divisions. This article first appeared in Quarry magazine, the official journal of the Institute of Quarrying Australia, and is reproduced here by kind permission.