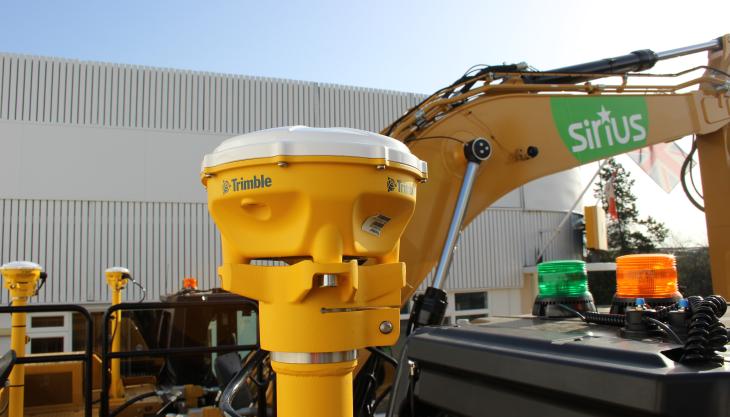 Demolition specialist invests in 15 new Trimble machine control systems to improve performance and productivity
THE Sirius Group – UK specialists in demolition, decommissioning, geotechnical and remediation services – have added and installed 15 additional Trimble technology systems across their machinery fleet to help increase site accuracy, safety, and productivity.
Recognizing the critical role connected site technologies will play today, and in the future, the company teamed up with authorized Trimble dealers SITECH UK and Ireland more than a decade ago to deploy site positioning systems and construction site software from the construction technology specialists. 
Sirius' Trimble machine control solutions are used in site surveys and have optimized the company's earthmoving fleet of more than 130 excavators, dozers, scrapers, and compactors with enhancements in safety, fuel usage, efficiency, and productivity.
'We've just taken delivery of 15 new Kobelco machines which are all fitted with SITECH Trimble technology because machine control helps us to make efficiencies in all areas,' said Stuart Kirk, plant director at The Sirius Group.
'Back in 2001, people struggled to see the savings having a site sat nav provides and I had to push to get investment in, but slowly things began changing. People began to see how much production can improve with efficiency savings on fuel, maintenance, tighter tolerances, engineer time on site and safety as your operator can stay within the machine.
'When you're running on Trimble machine control there's less supervision needed. Operators can see exactly where they are on site, what depth they're digging to, and can refer to the plans so they can be confident they're doing the job right first time which means they're not tracking about using fuel or increasing wear and tear on the machine.'
The Sirius Group have invested around £400,000 on SITECH Trimble technology over the last 12 months, and they currently operate 15 Trimble GPS rovers, 15 base stations, a site surveying system, and 25 excavators equipped with machine control systems.