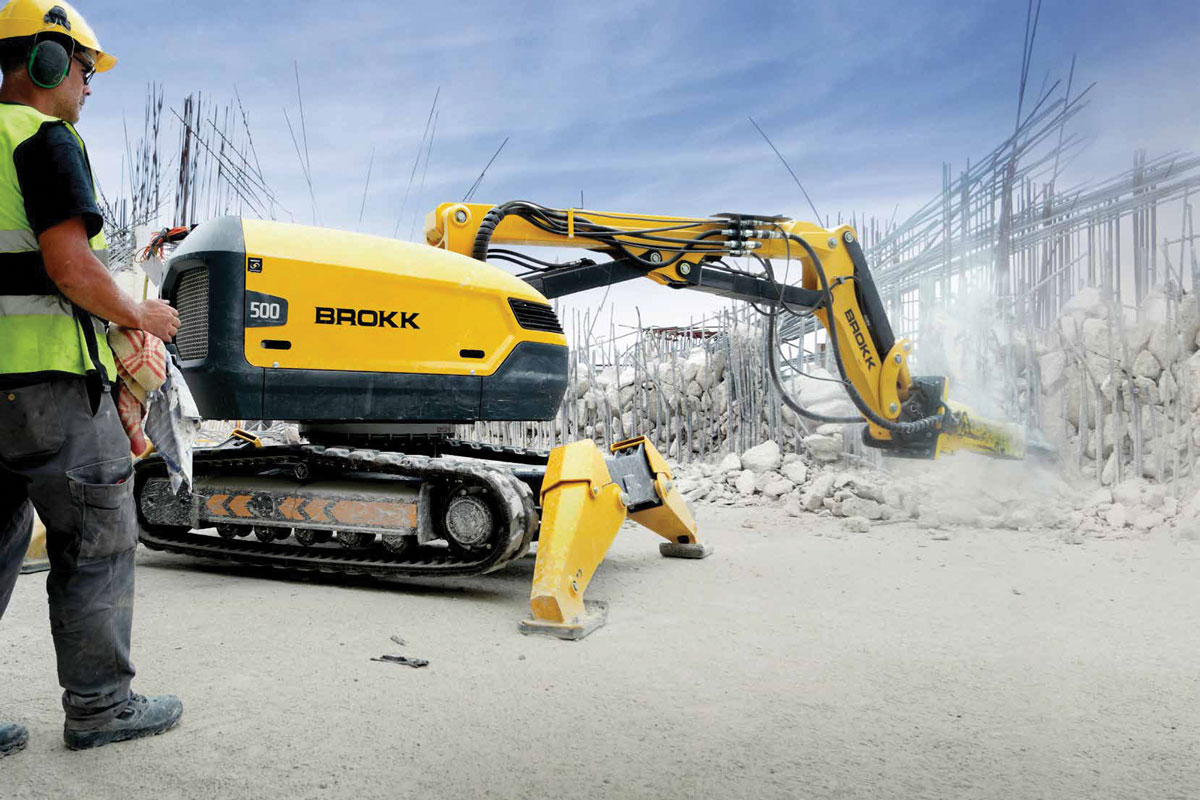 First published in the October 2021 issue of Quarry Management as Rise of the Machines 
Jeff Keeling, sales and marketing manager for Brokk, discusses the advantages of using demolition robots over excavator-mounted attachments
With the advent of cutting-edge technologies enhancing efficiency and safety on a number of jobsite applications, hydraulic breakers might seem a bit dull in comparison.
Mounted on a carrier without the correct hydraulic oil flow and pressure, system back pressure and some consistent downward force, they just sit there making noise and generating dust. 
Regardless of the carrier – excavator, backhoe or skid-steer – hydraulic breakers will not perform to their stated specifications without those four critical parameters in place. And there, in a nutshell, is one of the key differences between an excavator and a demolition robot.
In a sense, a demolition robot is designed from the attachment backwards. The oil flow and pressure – right where the hoses attach to the hammer – are calibrated to be exactly in line with the breaker manufacturer's requirements. 
The system back pressure is kept as low as possible and the downward force that the arm can exert on the hammer, whether it is on a slab, a wall or a ceiling, is consistent with the demands of the breaker. In effect, the hammer and the carrier are perfectly matched so the hammer can operate at peak power and efficiency.
On the other hand, excavators are – as their name suggests – primarily designed to excavate. In fact, they do that quite well. Better, frankly, than demolition robots can. But when it comes to demolition, just hanging a hydraulic breaker off the end of the boom is not enough to achieve the kind of concrete-breaking results that a robot can generate. 
An excavator's hydraulic system simply does not provide what the hammer needs to perform at its optimum level. It should not be surprising, then, that the single biggest difference between excavators and demolition robots is the power-to-weight ratio. 
Put simply, a 5-ton demolition robot easily handles a 1,600-pound breaker designed to fit on to a 10-ton to 17-ton excavator. And spoiler alert; the demolition robot would still outperform the much larger excavator in breaking concrete walls and ceilings.
All that power in such a compact package opens up all kinds of possibilities to undertake work in limited access, confined spaces or where floor loads are an issue. Top-down demolition of high-rise structures is fast becoming the realm of the demolition robot. 
Where before larger excavators were used, and extensive shoring was needed; today – light-on-their-feet but powerful robots can be deployed with results that are quicker and safer than traditional methods.
A demolition robot is much more than an excavator without a cab. Look carefully at the arm system. There are three parts to it, compared to just two on a traditional excavator. 
Those three-part arms can be manipulated to achieve all kinds of 'geometric gymnastics', not only holding the hammer against the work at any angle, but providing significant downward force, even directly overhead. 
Available models range from a light 1,100 pounds to over 12 tons, many offering zero-emission electric motors operating on 480V, three-phase power. There are also no-strings-attached diesel-powered versions for outside jobs, or for industrial applications where inside air quality can be properly managed.
The four outrigger legs on demolition robots provide an extremely good platform from which to operate. The entire machine is designed to withstand the rigors of the demolition process – the vibrations and reactive forces – as well as the heat generated by the large hydraulic system packed into the compact cabinet.
In addition, the high-capacity hydraulics found on demo robots lend themselves to a wide range of attachments beyond hydraulic breakers, making them even more versatile: crushers; rock drills; grapples; scabblers; core drills and more can be mounted and applied across a number of challenging applications in tunnels, mines, metal processing plants and in nuclear facilities.
Demolition robots can go where the operator sitting inside the cab of an excavator would rather not. And once they get there, their raw power and compact size makes them an increasingly valuable addition to the construction equipment landscape.
Brokk are a world leading manufacturer of remote-controlled demolition machinery and attachments. Through continuous innovation in engineering and design, the company offers unique solutions to multiple industries, including construction, demolition, mining and tunnelling, cement and other speciality applications.