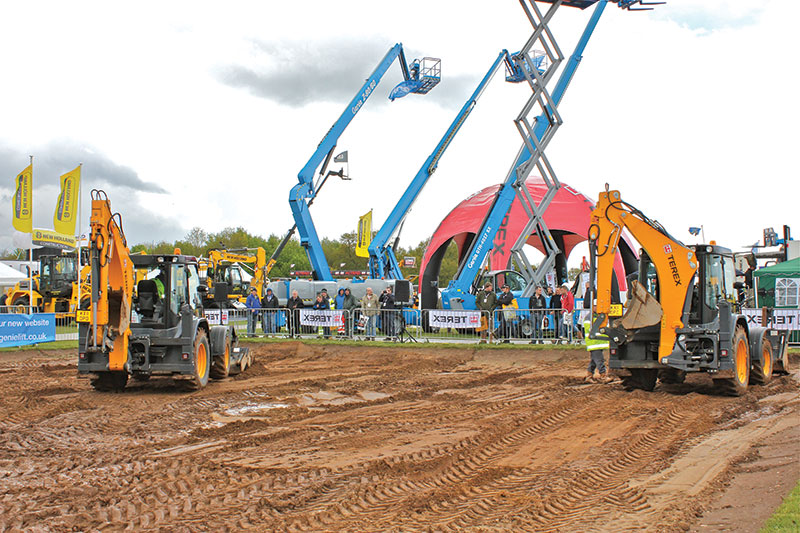 First published in the May 2015 issue of Quarry Management
As the biennial construction equipment exhibition returns, QM takes a look at some of the companies exhibiting new products, equipment and services at the show
Plantworx 2015, which will take place from 2-4 June at Bruntingthorpe Aerodrome in Leicestershire, is one of the UK's largest construction equipment events.
Spanning more than 100,000m2 of showground space, Plantworx will give visitors an opportunity to see some of the latest plant and machinery operating in 'real' construction site conditions, alongside compact/mid-range equipment, tools and services. 
The Construction Equipment Association (CEA), which organizes the show, says that, to date, Plantworx is more than 90% sold with 311 exhibitors already booked to take part in the biennial event. In terms of size and exhibitor numbers, the CEA says that the 2015 exhibition has already exceeded the previous show by 20%.
Many new launches have been confirmed by exhibitors such as JCB, Doosan, Hyundai, Finning Cat, Komatsu and Wacker Neuson to name but a few. Here, we highlight a selection of companies exhibiting new products, equipment and/or services at the show.
Plantworx 2015 will mark the start of a key partnership between AMI Group, one of the UK's leading suppliers of asset management and security services, and Flextrack, Danish manufacturers of GPS tracking systems.
AMI said the partnership between the two businesses brings together two of the biggest names in asset management and telematics. Gary Stockton, group managing director, commented: 'Flextrack has one of the most impressive ranges of equipment on the market and we're incredibly privileged to be working with such an esteemed manufacturer. We personally endorse each and every solution and are confident that all clients will be 100% satisfied with the new range.'
Under the agreement, AMI will distribute the full range of Flextrack hardware, including GPS tracking and telematics systems.   
Construction equipment specialists Cautrac will be using Plantworx to present Morooka's latest 11-tonne MST-2200VDR tracked carrier, which, the company says, can rotate 360° and fully tip a load at any angle.
Morooka crawler carriers date back to the 1970s but have undergone a continuous development programme, making them one of the Japanese firm's most popular models. The MST-2220VDR machine is the first rotating version to be manufactured by Marooka, offering significant operational benefits.
According to Cautrac, UK distributors for Marooka, the new model is able to move a load into a tipping area and then rotate 180° while remaining stationary prior to unloading. This process is said to avoid the necessity to turn the loaded machine around by contra-rotating the tracks, resulting in reduced wear and tear to both machine and ground.
The MST-2200VDR tracked unit is a completely new design, retaining only a few features from the previous 2200 model. Powered by a six-cylinder Cat C7.1 turbocharged diesel engine (186kW), the machine uses hydrostatic transmission offering increased torque over the standard MST-2200 while retaining a two-speed range that can be changed when it is fully laden and running at full power.
Once again, the CPA (Construction Plant-hire Association) will be present at Plantworx to promote its 'Stars of the Future' competition – an annual awards scheme, now in its third year, that recognizes talented youngsters on plant mechanic apprenticeship schemes.
Richard Noble OBE, pioneer of the Blood Hound SSC (super-sonic car) project, will present the awards to the regional and national winners on the final day of the show. The CPA will also be holding round table discussions and briefing sessions on its stand covering key industry topics, such as operator competence, lifting using excavators and the new guidance for suspended loads with telehandlers.  
Among the wide range of Doosan and Bobcat products on show at Plantworx will be the first UK unveiling of the new Doosan '-5' ranges of crawler/wheeled excavators, wheel loaders and articulated dumptrucks (ADTs), which all meet the latest Stage IV emission regulations. Several Bobcat machines will be making their UK debuts too, including the new S450 skid-steer loader, E-17 to E20 compact excavators and a number of telehandler models.
 The South Korean manufacturer has launched no less than nine Stage IV-compliant crawler excavators ranging from the 22-tonne DX235NLC-5 to the 52-tonne DX530LC-5 models, as well as the new DX170W-5 and DX210W-5 wheeled excavators, and high-performance DL300-5 to DL550-5 wheel loaders, replacing the successful Stage IIIB loaders introduced in 2012.
All of the latest machines, of which some will be on show and demonstration at Plantworx, offer enhanced comfort and controllability, together with new features to boost uptime and return on investment, with a key focus on increased power, robustness and agility. These advances are marked by a distinctive newly designed machine styling scheme for all LC-5 models.
Also on the Doosan stand will be new generators and compressors, including: the Stage IIIA-compliant G40-IIIA and G60-IIIA generators; and 7/125-10/110 Stage IIIB-compliant 'dual-mode' portable compressors.
On the Finning Cat stand, the company will be teaming up with its national network of Caterpillar Compact dealers to bring a fleet of new plant to Plantworx 2015. Finning will be highlighting the importance of supplying bespoke solutions and helping customers manage their equipment assets and associated costs.
Visitors to the stand will be able to see brand new equipment such as the Cat 313FL GC excavator and Cat 432F2 backhoe loader in action, accompanied by a range of Cat mini-excavators. Some of the products on display will include: the M-Series wheel loader range; and Cat TH414C and TH417C general construction telehandlers; with both skid-steer and multi-terrain loader models also making an appearance.
In addition, Plantworx 2015 will provide the official launch pad for the Finning Operator Academy, which has been set up to offer certified training and accreditation for the whole industry.
Simon Coates, business manager (building and construction products) for Finning's Equipment Solutions division, said: 'The Plantworx show is the ideal event to showcase our national reach and product range in partnership with our Caterpillar Compact dealer network. Our stand will be all about how customers can mix and match our products and services to ensure they maximize their productivity, whilst keeping running costs as low as possible.'
Garic, specialists in storage and mobile welfare solutions, will be unveiling a host of new product developments and services at the show. The company's stand will feature welfare/accommodation units, environmental-protection products, wheel- washing equipment, dust-suppression solutions, Modulink buildings and Garic Connect – a brand new equipment sourcing service being offered by the firm's hire division.
Garic will also be exhibiting their most highly effective dust-suppression unit, the V12, which features advanced hydro-technology to create an ultrafine mist that clings to dust particles. The V12 dust suppression's cannon – which is capable of spraying water at 130 miles/h – has been designed to eradicate airborne particle emissions at quarries and demolition and construction sites. 
Garic director Neil Richardson said: 'We are really looking forward to exhibiting at Plantworx; it's the pinnacle of what has been a very exciting 18 months for us. The whole company has worked extremely hard to get our new products ready and we are exhibiting some of the most ambitious product developments Garic have ever manufactured.'
This year marks the 30th anniversary of Hydrema in the UK and the heavy equipment manufacturers will be showcasing their Danish roots at Plantworx 2015 with a Viking-themed stand. Among the products on show will be the 10-tonne 912E dumptruck (powered by a Cummins EU Stage IIIB engine) which delivers 20% more torque and 7% more hp than its predecessor model. Also on display will be the popular 22-tonne 922D 6x6 articulated dumptruck and new MX14 wheeled excavator.
Tim Wadsworth, Hydrema's UK sales director, said: 'The 912E is known for its superior handling and robustness, making it suitable for plant hire. We sold our first dumptruck in the UK market in 1985 and 30 years later the Hydrema 912E is the best selling compact ADT in the world.
'We have plenty of optional features available, including our Multitip designed to increase productivity, as well as a range of LGP machines to compete in the tracked dumper territory. We also offer chassis cab versions of our machines capable of being fitted with lime spreaders, tankers, bowsers and all types of attachments for new niche markets.'
Exhibiting for the first time at Plantworx, Hypertherm will be displaying their full range of Powermax metal-cutting systems, including the three latest additions to the product family: the Powermax30 AIR with built-in compressor, Powermax30 XP; and Powermax125, the most powerful system in the line-up.
Also on show will be the company's MaxPro200 – a 200-amp long-lift air and oxygen plasma system engineered for heavy-duty, high-capacity mechanized and hand-held cutting/gouging.
With a severance cutting capacity range from 16mm at 30A to 55mm at 125A, the company's Powermax portable air plasma systems are to said to cut faster and more reliably at a lower cost. According to Hypertherm, the Powermax 30 AIR unit – which will be on demonstration – has an internal compressor making it possible to cut metal just about anywhere. 
There will be a number of new product launches on the Hyundai stand, including the 30-tonne HX300L and 26-tonne HX260L excavators, and HL960 and HL970 wheel loaders. Also making their UK debut will be the new 16-tonne R160W-9A excavator model and R17Z-9A mini-excavator.
Equipped with a Kubota D902 engine (15.7hp), the R17Z-9A mini has been designed for working in confined spaces such as urban environments and manoeuvring in sensitive landscapes. The canopy-equipped zero-tail-swing machine (no cab option is available yet) has two travel speeds – 2.2km/h at the lower end and 4.1km/h at the higher end of its range.
Other Hyundai machines on display will include: the R25Z-9AK mini-excavator; R80CR-9A midi-excavator; R140LC-9A and R125LCR-9A excavator models; and HL760-9A waste-handler spec machine.
JCB will be showcasing a selection of models from their telescopic handler and site dumper range, a new series of compact excavators and their hybrid generator line-up. 
Two models from the company's new site dumper range  – which vary in size from one to 10 tonnes – will be shown. A 6-tonne machine, designed for high carrying capacity in large earthmoving projects, will be on static display, alongside a 3-tonne version that will form part of JCB's live demonstrations during the show.
Also on display will be the G90QSi generator model – part of JCB's innovative fuel-saving Inteli-Hybrid generator range. The units bring reduced cost of ownership to JCB customers by delivering a highly efficient solution to the ever-changing load requirements on off-grid sites.
The JCB Loadall 525-60, which has a lift height of 6m and a load capacity of 2.5 tonnes, is powered by a 2.5-litre four-cylinder engine (JCB Diesel by Kohler) for easy lifting performance and rapid travel without the need for a diesel particulate filter or an SCR system to meet Tier 4 Final emissions regulations.
Other compact equipment on show will include the 6.5-tonne 67C-1 tail-swing excavator, which features a 30° tilting cab for excellent service access, 500h greasing interval, 100% steel bodywork for lasting durability and JCB's 2Go hydraulic safety system.
Construction equipment specialists Kubota UK will announce the launch of a new product line at Plantworx. The company's KC250HR-4 crawler dumper and RT-Series articulated wheel loader range will be officially unveiled at the show, displayed alongside Kubota's existing high-performance mini-excavators, including the popular KX019-4 unit.
The latest wheel loader models have been added to the line-up to further enhance the company's range of equipment for the construction sector.
The RT270 wheel loader, for example, combines heavy-duty axles with a maximum capacity of 12 tonnes to provide a travelling speed of up to 25km/h, while the RT150 model offers a tipping load of 580kg, making it ideal for jobs where enhanced power and manoeuvrability are essential.
Both machines are built to fit through the narrowest of spaces thanks to a 45° articulation-oscillating angle. Another key benefit to users, say Kubota, is the incorporation of a hydrostatic transmission and high-performance pump, which work together to deliver maximum power.
Neil Winfield, business development manager for Kubota Construction, commented: 'Plantworx provides the perfect opportunity for us to demonstrate to customers exactly why Kubota's first-class machinery is equipped for any challenge on any site.
'We are always working towards designing new machinery that can compete on price and quality, and the addition of the wheel loaders and crawler dumper are perfect additions to our existing range; fulfilling the varied requirements of construction workers and hire companies.'
The new Kubota KC250HR-4 crawler dumper is equipped with an 84° dumping angle, which ensures that all materials exit easily from the skip, while the addition of a rotary function allows users to tip sideways at 180° when carrying out tasks such as trench filling.
A variable-speed, two-pump, two-motor, clutchless hydrostatic transmission system delivers smooth control and allows operators to switch between high speeds (up to 11 km/h) for flat surfaces or low speeds (up to 6 km/h) for rougher terrain.
In addition, a hydraulic swivel motor mounted on a slew ring is said to provide precise and fast rotation of the skip at 180°, making it suitable for a wide range of applications.
Mentor, one of the UK's leading training providers for materials handling, access and mobile plant equipment, will be introducing their latest course – the IOSH Managing safely forklift operations – at Plantworx. This newly launched training course is the first ever IOSH- accredited safety management course tailored to the needs of those responsible for overseeing forklift operations.
It makes reference throughout to lift trucks and the environments in which they operate, as well as including a full additional module specific to the challenges faced in materials handling. The nine-module course builds on the highly regarded IOSH Managing safely course, which provides delegates from any industry with a practical understanding of what must be done to ensure safety in their teams' work.
New products and innovation will be in the spotlight on the Morris Site Machinery stand. Accompanying the company's four key brands – SMC, ArcGen, Denyo and Hilta – will be a new super silenced 500amp mobile welder generator, a 8kVa generator, a lighting tower and newly developed link-up technology designed to maximize fuel usage. 
Available later this year, the ArcGen Weldmaker 500CC/CV has been developed for users who demand more from their diesel welding generators. A Kubota EU Stage IIIA diesel engine powers the 500-amp constant current/constant voltage machine, and the ability to connect directly to wire feed units, without the need for an inverter power source, offers high levels of efficiency and reliability.
According to Morris, their GenPac 10 generator is a compact and robust 8kVA single-phase generator which comes equipped with a high-capacity fuel tank that can run for 75h at 75% load.
Other product innovations on show will include what Morris claim is the UK's first solar tower light, SMC Solar-2, and highly economical SMC TL-90 LED lighting tower. The latter has five 240W LED lamps and a Kubota diesel engine with low noise levels. It can also be run from mains power via a changeover switch included as standard, or up to three tower light models can be linked together to run from one engine consecutively, offering almost 400h of usage.
A major focus of the Morris stand will be the SMC Link-up system, which has been designed to help the industry to make the most of site equipment with greater performance, economy and environmental results. The technology has been well received and is said to help deliver significant savings with three of the company's TL-90 LED units running from a single engine producing a 45% fuel saving and a 60% saving on service costs per year.