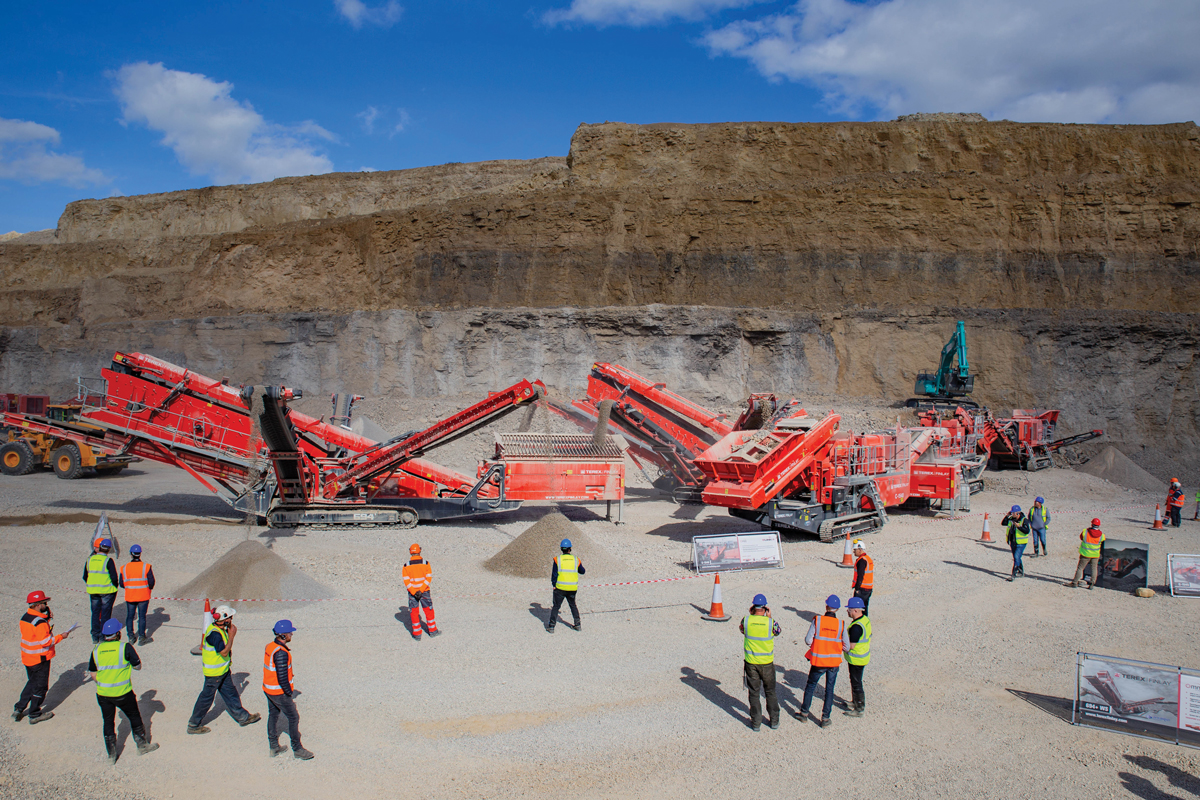 First published in the December 2019 issue of Quarry Management as Rolling Out the Red Carpet
Terex Finlay introduce a host of new products during two-day showcase event at Raisby Quarry  
Terex Finlay, in conjunction with Molson Finlay and Finlay Scotland, recently hosted a two-day showcase event at Breedon Northern Ltd's Raisby Quarry, near Coxhoe, Co. Durham, where a total of 19 mobile crushing, screening and conveying machines were on display and, at regular intervals, put through their paces in live demonstrations of quarrying and recycling applications.
Alongside the line-up of well-proven Terex Finlay machines, such as the J1170 jaw crusher, C-1540 cone crusher and TC-80 tracked conveyor, were no fewer than six new or upgraded machines, including two versions of the new 694+ inclined screen, the new 883+ triple-shaft screener and the upgraded I-120RS impact crusher with optional grinding path. The recently launched TC-100 and TR-75 conveyors were also showcased for the first time, along with the new TF-75L low-level feeder. 
The many visitors to the event also witnessed live demonstrations of the innovative new 'OMNI by Terex' system that featured on the main working train of machines in the quarrying demonstration area, showing how this innovative technology is able to provide a previously unattainable level of control in multi-machine crushing and screening operations (see p.28 of QM August 2019 for full details).
694+ inclined screens
The next-generation Terex Finlay 694+ inclined screener has been designed with a number of design updates that set the machine apart from its predecessor. For example, the folding mechanism for the onboard product conveyors has been simplified and reconfigured for ease of on-site movement and rapid set-up and tear-down times, whilst he fourth 'oversize plus' product conveyor has variable tilt and side slew to accurately discharge material for recirculation or stockpiling.
The machine also incorporates a brand-new screenbox that has been engineered for a more aggressive screening action compared with the model it replaces. Hydraulically adjustable to an angle between 18° and 30°, the screenbox features three large 6.1m x 1.53m (20ft x 5ft) inclined screens that provide a total screening area of 27.8m2 (300ft2) for efficient screening and high tonnage capacity, even at small aggregate sizes. Screenbox deployment has also been improved with hydraulic folding for ease of set-up and tear down, whilst quick wedge tensioning, access holes and a bottom-deck hydraulic tensioning system help keep mesh set-up and change-out times to a minimum.
Terex Finlay have also expanded their 6-series product range with the introduction of the 694+ WS model. This incorporates all the improvements of the new 694+ unit but features a larger screenbox with three 6.1m x 1.7m (20ft x 5ft 7in) inclined screens for even greater tonnage capacities. The WS version is fitted with a 650mm wide transfer as standard, although an extended option is available, and as with the 694+ model, the fourth product conveyor maintains its slew and tilt functions for on-site flexibility and closed-circuit applications.
883+ triple-shaft screener
Terex Finlay say the 883+ triple-shaft screener has been developed to cope with a variety of sticky, difficult and dry applications, including quarry, mining, sand and gravel, construction and demolition waste, and other recycling applications. 
At the heart of this new model is a new screenbox featuring two 4.8m x 1.5m (16ft x 5ft) screen decks. The triple-shaft design of this screenbox employs an oval-motion stroke which combines linear and circular amplitude to generate an aggressive screening action that reduces plugging and blinding of the screen decks and delivers quality products with high-tonnage outputs. Even when under heavy load during the testing phase, Terex Finlay say the screenbox consistently produced high tonnages across a range of difficult and challenging applications. 
According to the company, the higher G-force and larger stroke of the triple-shaft screenbox provide the optimal solution for high productivity in both dry and wet, sticky applications. Moreover, multiple media configurations, including bofor bars, finger screens, woven mesh and punch plates, are available for applications ranging from heavy scalping to fine screening, with the banana profile of the bottom deck also helping to maximize the screening of fine materials.
I-120RS impactor with optional grinding path
The Terex Finlay I-120RS horizontal-shaft impact crusher is a second-generation machine incorporating the new Terex CR038 impact chamber, which features fully hydraulic apron setting adjustment, an inlet lid and hydraulic release chamber protection to assist in passing any uncrushable material that enters the chamber.
The machine features direct drive and has an advanced electronic control system that provides optimal operational efficiency whilst consistently delivering high material reduction ratios and consistent product shape. For operators in recycling and demolition applications, the option of an under-pan feeder and auto-adjust on the chamber secondary apron are also available. An optional pre-screen, which can be fitted with punch plate, mesh or grizzly bars, can also be used when the feed material contains a large amount of fines.
The RS section comprises an additional two-deck screenbox with both decks measuring 12ft x 5ft. Oversize material can be fed on to the slewing recirculation conveyor, which can be set in either open or closed-loop configuration. There is also the option of an additional transfer to collect from each of the decks separately along with a mid-grade discharge conveyor that allows the flexibility to create two or even three products from a single machine. The complete RS section can be removed to allow the machine to work as a standard layout or for transport as a separate item in weight-sensitive areas.
A key upgrade on the I-120RS is an optional third apron (grinding path). Hydraulically adjusted for ease of operation, this is used to provide additional reduction for the production of a quality specced product. In addition, Terex Finlay's T-Link telemetry system is included as standard and now comes with a new seven-year subscription that replaces the original three-year subscription period.  
TR-75 radial stockpiling conveyor
As part of Terex Finlay's ever-expanding conveyor range, the new TR-75 radial stockpiling conveyor is said to offer an alternative solution for stockpiling duties after mobile crushing and screening plants. With its tracked dolly for ease of movement and rapid set up, the mobility and flexibility of this radial unit means it can reduce or, in some cases, eliminate the use of a wheel loader on site.
Suitable for use in a wide range of applications and designed to accept a constant material flow, the TR-75 is 75ft long and has a 1,050mm (42in) wide belt. With a maximum discharge height of 10.9m (35ft 9in) and 135o radial capability, the TR-75 can create stockpile volumes up to 10,040m3 (13,132yd3). In addition, the TR-75 has an optional automated stockpiling mode, whereby the conveyor moves radially while increasing its discharge height to prevent any material segregation.
TF-75L low-level feeder
The TF-75L low-level feeder has been designed to maximize productivity, enhance efficiency and reduce on-site operational costs in a wide range of applications and feed material types. Terex Finlay estimate that these cost savings can be as much as 80%, resulting in significant immediate benefits for operators who can either redeploy their wheel loader or simply avoid investment in such a machine altogether.
A large 7m3 (9.2yd3) hopper with a feed-in height of 1,900mm and width of 3,500mm allows low-level feeding directly from excavators, grab cranes and wheel loaders. For on-site safety and quick set up, the hopper is fitted as standard with hydraulically folding sides.
Depending on the application, Terex Finlay offer a number grid and hopper extension options, whilst for particularly abrasive materials a steel apron feeder option is also available. Tracked mobility and the ability to feed material from all three sides allow the TF-75L to be easily incorporated into both open and closed static and mobile crushing and screening circuits. 
The 1,200mm (48in) wide variable-speed main conveyor has the capability to handle up to 500 tonnes/h depending on the feed material and working angle of the machine, whilst the 9.8m (32ft 2in) maximum discharge height provides a conical-shaped material stockpile capacity of up to 1,735m3 (2,269yd3).
Pinless hydraulic lifting of the discharge conveyor allows it to work from horizontal, allowing for accurate material placement and minimizing the drop height of the discharged material. This function can also be radio controlled as an option. 
By reducing the double handling of materials and the need to operate secondary equipment such as wheel loaders on site, Terex Finlay say that using a TH-75L low level feeder means operators can immediately benefit from lower operational, maintenance and labour costs, and reduce the overall cost per tonne. 
As with all Terex Finlay crushers, screeners and conveying equipment, the TF-75L low-level feeder has been designed for ease of movement between job sites and ease of redeployment on site, with a rapid set-up time allowing the machine to be to put work less than 15 mins after arrival on site in transport mode.
TC-100 tracked conveyor
Powered by an 83kW (110hp) diesel engine, the new TC-100 tracked conveyor from Terex Finlay has been designed for constant-feed material-handling operations in quarrying, recycling, mining, port, dock and rail applications, and features dual-speed tracking as standard for ease of movement around site.
The 100ft long conveyor is hydraulically driven and offers hydraulic pinless height adjustment at both the feed and discharge ends, whilst the conveyor head section can be hydraulically folded to achieve a compact transport envelope. Rated up to a maximum of 400 tonnes/h, the TC-100 is equipped with a 1,050mm (42in) wide belt that has a maximum discharge height of 14.3m (47ft), giving a maximum stockpile capacity of 4,145m3 (5,421yd3). For further information visit: www.terex.com/finlay