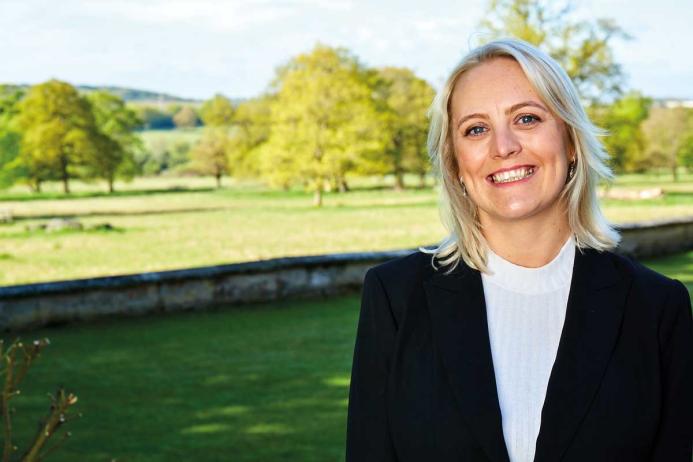 First published in the May 2023 issue of Quarry Management 
Many companies are fully aware of their responsibility towards the environment and to future generations – and view sustainability as an integral part of their business strategies. QM spoke to Kirstin McCarthy, sustainability director at Aggregate Industries, about the importance of climate-change mitigation, improving transparency, and empowering the customer to make sustainable product choices 
Building a cleaner, greener, and more sustainable future has become a top priority for the Government as the challenges of climate change, environmental degradation, and natural resource depletion become increasingly pressing. With Europe aiming to become the world's first climate-neutral continent by 2050, Britain, too, has set itself ambitious targets for reducing CO2. 
Stepping up to the challenge, the UK has already taken bold steps in achieving net zero by 2050, from electrifying transport and prioritizing reforestation, to embracing renewable energy technologies and driving decarbonization across the entire value chain.    
In recent years, the quarrying industry has made significant progress on its journey to reduce carbon emissions. However, many businesses involved in the production of aggregates are under no illusion about the scale of the net-zero challenge. 
All companies can implement eco-friendly practices and potentially reap the benefits on their bottom line, but any change to a business's operational practices should be carried out with a duty of care and foresight that encourages sustainable solutions, protects natural resources, and supports cleaner and greener production.
Playing a pivotal role in helping to accelerate the UK construction industry's transition to net zero, Aggregate Industries (AI) are setting an example to other businesses in the wider supply chain with their commitment to reach net zero by 2050. Last year, AI launched their environmental sustainability strategy – 'Building Progress for a Sustainable Future' – with the goal of becoming the UK's leading supplier of innovative and sustainable construction solutions. 
Following significant progress made by the heavy-side materials supplier to date, Building Progress for a Sustainable Future brings together former management plans and policies into a more holistic and ambitious strategy set to transform the business by 2030.
Central to Aggregate Industries' business strategy and corporate vision, the blueprint focuses on five key pillars that are aligned to the company's business operations: climate; people and communities; nature and environment; circular economy; and sustainable solutions. Against each pillar, AI have identified key areas of focus, alongside specific performance targets to be achieved by 2025, which the business has committed to reviewing annually.
'With environmental sustainability at the core of our business strategy, we have a great opportunity to lead the charge in demonstrating best practice in reducing carbon emissions, increasing the efficiency of waste and water management and, ultimately, improving the sustainability of Aggregate Industries' operations, products and services,' said sustainability director Kirstin McCarthy, who is responsible for driving forward AI's ambition to become a leading sustainable business and net-zero company.
'We're already achieving good results today and we want to continue to build on these in future. Aggregate Industries is a progressive, future-forward business; we have long championed environmental protection, waste prevention and recycling, resource efficiency, and circular economy principles. Climate change is by far one of the biggest challenges of our times. And the time has come to respond to the climate crisis with urgency and to stop dithering or waiting to see what others will do.
'At Aggregate Industries, we are incredibly passionate about playing our part. We are fully committed to taking decisive steps to reduce carbon emissions and strive for a zero-carbon future. And we are constantly looking at innovative ways of accelerating our journey towards net zero and achieving it by 2050 or sooner. However, the implementation of our ambitious environmental strategy will only succeed with the support of our customers, suppliers, partners, and everyone else that we collaborate with across the supply chain.'
With more than 20 years' knowledge and experience in environmental management, Mrs McCarthy is no stranger to driving improvements across all aspects of sustainability. She has spent most of her career helping to reduce the aviation industry's carbon footprint and impact on the environment and climate. 
Prior to joining Aggregate Industries, Mrs McCarthy was head of sustainability at Birmingham Airport for more than six years, where she was responsible for developing and implementing an effective sustainability strategy to shape the airport's practices and performance, as well as its roadmap to become net zero by 2033. 
Mrs McCarthy was also actively involved in changing the flight paths at Birmingham Airport, which has not only delivered a positive long-term impact on the environment (eg reduced CO2 emissions), but also helped build positive relationships with neighbouring communities and businesses, tackling issues such as noise pollution, air quality and traffic. 
Delivering a cleaner, greener future
AI recognize the environmental impact of their operations and products and have worked continuously to embed sustainability into their corporate strategy, their operational processes, and executive decision-making.  
'It's an exciting time to be at Aggregate Industries,' commented Mrs McCarthy, who was appointed to the newly created role of sustainability director to support the company's top-priority sustainability agenda. 'What was very clear to me when I joined the executive committee is the unwavering commitment to put sustainability at the heart of its business model and long-term strategy, and the desire to become a more sustainable, purpose-led company.   
'Along with the continuous improvement of occupational health and safety, mitigating climate change and decarbonizing the construction industry are our top priorities. We have a highly skilled and focused sustainability team who are keenly aware of the role that Aggregate Industries must play in the race to net zero and are committed to continue leading the way in this challenge – setting, meeting, and exceeding the high standards that we've implemented.'
One of the key motivational factors for Mrs McCarthy joining AI was the opportunity to drive employee engagement and understanding of the business's environmental goals and ambitions – focusing on how individuals and their actions can contribute to the bigger picture. In her role as sustainability director, she works alongside AI's business divisions (Aggregates, Concrete Products, Cement, Readymix Concrete, and Surfacing Solutions) to embed and integrate circular economy principles, technological innovation, and social responsibility in every facet of the company's activities.  
'Our people are crucial to delivering our purpose and sustainability strategy,' said Mrs McCarthy. 'Just like our continued commitment to health and safety excellence and zero harm, we are working hard to embed sustainability more deeply into our culture and mindset, operational processes and systems, and corporate governance. 
'As part of our green agenda, we need to ensure all our people are on this decarbonization journey towards a more sustainable construction industry. Since my appointment at Aggregate Industries, I have built, and now run, a successful team who are playing an active role in tackling environmental issues, such as carbon management, biodiversity loss, and resource scarcity. 
'We have taken a business-driven approach to sustainability that spans all our operations, and I think Aggregate Industries are very much on the right track. With the ambition, impact, and agility that the company has – alongside the specific environmental performance targets that need to be met by 2025 as part of our sustainability strategy – we're well positioned to meet the challenges ahead and deliver a truly sustainable built environment.'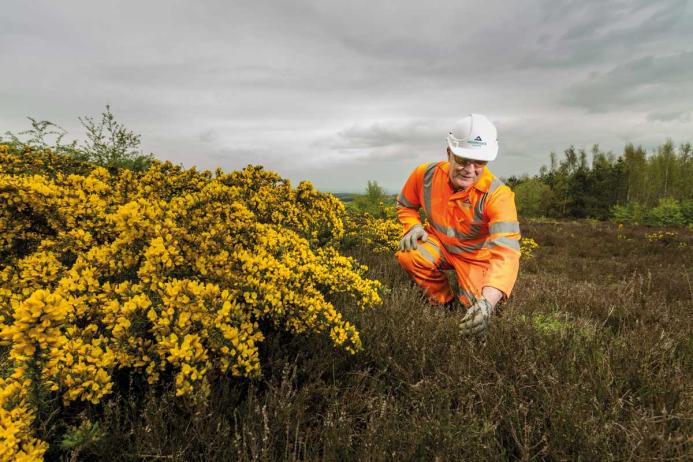 Setting the standard
Indeed, having worked for Aggregate Industries for just under two years, Mrs McCarthy has taken the organization on a journey towards greater sustainability (in line with parent company Holcim's ambitious net-zero targets), ensuring the business maintains its focus on a long-term, sustainable future and is prepared for the transition to a low-carbon, circular economy. This has resulted in the successful delivery of a number of decarbonization projects, which Aggregate Industries describe as 'industry firsts' and 'transformational investment projects'.
At the company's Bardon Hill Quarry, in Leicestershire, for example, a unique Doppelmayr RopeCon system is being used to transport overburden for emplacement within the existing quarry at rates of up to 1,000 tonnes/h. The RopeCon system – which combines proven ropeway engineering with conventional conveying technology – has provided a cost-effective, productive, and eco-friendly solution for quarry restoration work at Bardon Hill. 
Track ropes span 850m across the entire pit and the conveying system includes a reversible second belt that allows simultaneous conveying and emplacement activities. The RopeCon installation has significantly reduced CO2 emissions and environmental impact on site, compared with the road haulage and carbon footprint associated with conventional surface conveyor systems.
Aggregate Industries are also investing heavily in renewable energy and biofuels, such as hydrotreated vegetable oil (HVO) and sustainable solar power, as they work to transition their energy sources away from fossil fuels. Again, at Bardon Hill Quarry, the site team is currently trialling HVO across its mobile plant and HGV fleet as part of a major initiative to reduce carbon emissions and operational costs on site. 
Photovoltaic technology is another important area of investment for AI, as the company looks to strengthen its sustainability credentials by generating its own clean power, placing less demand on the national electricity network, and making its operations even more energy efficient.  
Mrs McCarthy is clearly excited and enthusiastic about the sustainable opportunities for Aggregate Industries across their entire operations. With more than 200 sites (quarries, ready-mixed concrete plants, cement works, asphalt plants etc) and around 3,700 dedicated employees, part of Mrs McCarthy's remit is to identify and deliver carbon-neutral equipment fit for the future, and one of her goals is to channel these solutions into the areas where the business can make a real and positive impact on the environment. 
'We are already taking important steps towards sustainable development by investing in more energy-efficient manufacturing processes and systems,' she commented. 'This year we will be carrying out an environmental impact assessment of all our pumps, motors, compressed-air systems, and ancillary equipment to improve our overall energy efficiency. Upgrades will include hybrid technology, electric motors/drive systems, and widespread use of biofuels.
'Such investments will transform our most carbon-intensive facilities like Glensanda and Bardon Hill into high-energy efficiency quarry sites, demonstrating our sustainability efforts and commitment to delivering net-zero carbon across our operations. In terms of recycling materials, we are striving to increase the volume of materials reclaimed or recycled from 1.5 million tonnes to 3 million tonnes by 2025, reduce our waste to landfill to zero, and embed circular economy best practices across all our divisions.'
Alongside this, Aggregate Industries are soon to publish a detailed carbon reduction roadmap which sets out the path that the business will follow to fully decarbonize by 2050. Building on the company's work on minimizing carbon emissions, the roadmap is the result of a structured and considered approach to how it can cut carbon in its processes and operations. 
Another key area of responsibility for Mrs McCarthy and her sustainability team is safeguarding the natural environment in and around Aggregate Industries' operations. With a long and impressive track record of promoting environmental awareness, enhancing biodiversity, and protecting nature, the company has now set its sights even higher. 
'Preserving and protecting our natural environment and resources – which support people, climate, and nature – is a central pillar of our sustainability roadmap,' said Mrs McCarthy. 'We all need to be aware of our impact on nature and the environment, as businesses play a critical role in reversing the loss of biodiversity, mitigating the effects of pollution on the environment and local communities, and working towards a nature-positive future. 
'For Aggregate Industries, we intend to build on this proactive approach across all our sites and divisions. Our quarries, for example, now have biodiversity managements plans in place to maintain and, where possible, enhance biodiversity, such as tree planting and creating a variety of habitats for wildlife.'
Other important goals for the company to achieve and thus become nature-positive by 2025 include: 100% of its water discharged will meet water quality standards; reducing freshwater withdrawal intensity by 30% for cement (per tonne of product) and 12.5% for aggregates; and creating a biodiversity index (BIRS) baseline roadmap for all cement and aggregates sites by 2024.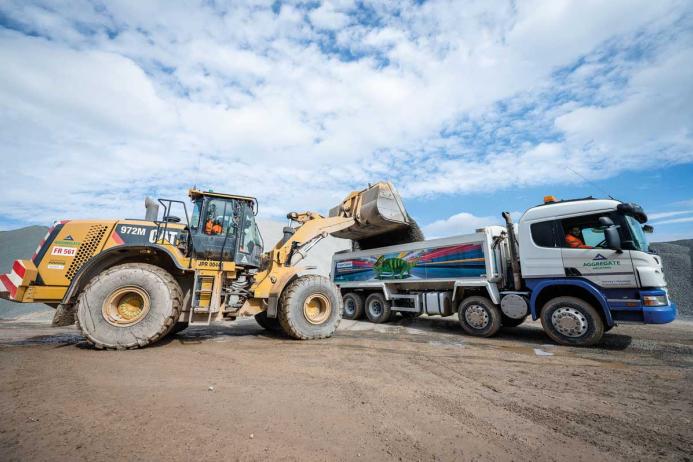 Inspiring action 
Aggregate Industries' commitment to sustainability is not just limited to their operations. The business also works to inspire others to act and make a difference. With the scale of the climate and nature emergency becoming clear, organizations are taking a much more active role in adopting sustainable practices and reducing carbon emissions – and demanding that the companies that they work with do, too. 
Net zero is a must today and one of the key ways to meet tightening regulatory requirements for sustainability is taking responsibility for a sustainable and transparent supply chain. Demonstrating their strong commitment to providing greater supply chain transparency, AI work closely with their suppliers, partners, customers, and industry associations to share best practice and provide guidance, in order to foster innovation and improve standards of performance throughout the construction value chain. 
'Optimizing your supply chain for net zero increases efficiency, reduces costs and improves customer service,' enthused Mrs McCarthy. 'The road to low-carbon circular economy requires collective action and sustainable procurement strategies will have a pivotal role to play in supporting these ambitions. It's a win-win for the wider construction supply chain. Net zero builds your reputation among consumers who have rising expectations for sustainable business. And it wins support from key stakeholders who increasingly demand strong environmental, social, and corporate governance.'
With the digitalized quarry fast evolving and new technologies advancing at pace, companies are able to gain a wide range of benefits with the latest drones, robotic automation, and artificial intelligent systems. In future, it will be increasingly important not only to act more sustainably, but also – as Mrs McCarthy urged – to document these activities with greater transparency and credibility.  
'Doing business in a clear, open way is a commitment we work hard to keep, and we promote transparency where possible throughout the company,' she explained. 'To that end, we have continually optimized our sustainability and carbon data reporting. Last year we launched 'Your Carbon Report', which is the industry's first fully customizable carbon reporting tool that provides complete visibility of the carbon footprint of all our products used in building and infrastructure projects.
'Against today's environmental and political backdrop, it is important that the quarrying and mineral products industry has a clear and common understanding of whole-lifecycle carbon measurement and what is included in a carbon footprint. Our carbon reporting tool produces a report using data from across all our business areas to provide a comprehensive and accurate cradle-to-site assessment that looks at the whole manufacturing process, from raw material extraction to transportation and installation on site. 
'We can also provide an insight into the whole-life carbon performance of each product in its final application, helping customers to make informed decisions on material choice that will lower their carbon footprint. The report can be generated quickly; all data within the tool can be exported to Excel file format which allows Aggregate Industries and our customers to conduct detailed carbon analysis.' 
To give assurance to customers that the solution includes all necessary material flows and is in line with industry best practice, all data in the carbon reporting tool is independently audited by environmental specialists Circular Ecology. 
Implementing a series of iterative actions, such as Your Carbon Report, can quickly add up to making huge strides towards net-zero targets. These sustainability improvements deliver sound, foundational operational practices: increased efficiency; cost-effectiveness; reduced waste; optimized use of resources; and brand value.  
Marking yet another key milestone in their decarbonization journey; in 2022 Aggregate Industries became the first building materials manufacturer in the world to adopt a complete monitoring solution for managing and reporting environmental impact. At the company's Cauldon Cement plant in Staffordshire, the sustainability team has integrated an EVS Omnis system from Envirosuite to help plant operators proactively manage noise, odour, and dust emissions on site and at key community locations.  
EVS Omnis is a cloud-based environmental management software designed for users to easily interpret complex environmental information. It simplifies and streamlines recording processes and gathers actionable insights, providing real-time alerts before any issues arise. 
'Efficient data management is a must-have for successful sustainability management,' said Mrs McCarthy. 'Understanding the environment in which we operate in, and the impact we're having, is integral to our business strategy. Providing meaningful carbon footprint/energy consumption data is no longer just information for annual sustainability reports – it is fundamental to securing new business opportunities and boosting your reputation as a forward-thinking, environmentally conscious organization. 
'The wider construction industry needs to seize this opportunity to provide accurate and consistent data that can help drive the transition to Net Zero, implement even higher sustainability standards throughout the entire supply chain, and support customers in making informed sustainable product choices. 
'Environmental sustainability is a central element of Aggregate Industries' corporate strategy. And we will be going above and beyond to maintain our status as the UK's leading construction materials supplier with a strong sustainability proposition to help build a more prosperous and sustainable future for all.'