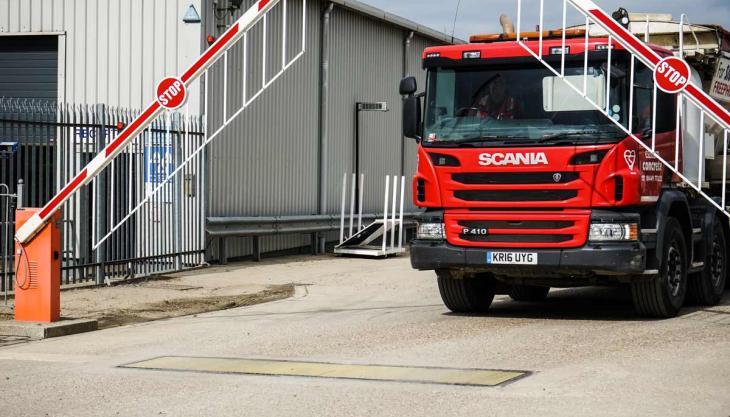 Latest Apollo Live offers combined vehicle weighing and site security solution
VEHICLE Weighing Solutions (VWS) have launched their latest smart weighing solution – Apollo Live – a high-specification axle and gross vehicle axle bridge that provides real-time weight data and features automatic number plate recognition (ANPR) identification for integrated security barrier control.  
As the vehicle rolls over the axle bridge, ANPR and weight data, including individual and gross axle weights, are simultaneously captured and sent to the VWS live secure portal, where the information can be viewed in a real-time environment. Using ANPR data the weighbridge system can reliably identify vehicles as they approach the barrier and control access via the portal.
The portal has a customizable dashboard so users can see the precise data they need at the touch of a button, whilst the addition of an application programming interface (API) means that the information can be made accessible to third-party applications.
VWS operations director Trevor Evans said: 'Previously vehicle operators had to rely on manual or traditional methods, such as downloading the weight data to a memory card and physically visiting the axle bridge, but this system doesn't require any physical retrieval of data. 
'It allows customers to make immediate changes to overloaded vehicles to ensure they comply with safety legislation and the ANPR identification means that they can ensure that only approved vehicles are granted access on-site.'
By recording vehicle movements in and out of premises, businesses are able to better account for on-site personnel, thereby enhancing their duty of care and safety procedures. The live weighing data allows companies to make immediate changes to overloaded vehicles to ensure they comply with safety legislation.
Eastern Concrete of Stowmarket, in Suffolk, have been using the Apollo Live system with great success for over a year. 
Dan Lummis, transport and maintenance manager at Eastern Concrete, commented: 'The system is a really useful addition to our operations. Not only does it provide very accurate and immediate weight data, we are also using it to control and monitor who comes in and who goes out of our premises. 
'We have a list of approved registration plates and the ANPR system automatically checks if vehicles entering site are on that list. If they aren't on the list the security barrier doesn't automatically open and we can check before allowing them in.'
According to VWS, using the ANPR camera to validate vehicle identification is also helping to improve the axle bridge read rate. The weighbridge requires drivers to pass over at a speed less than 10mph in order to accurately read the weights and the ANPR camera barrier system ensures that drivers slow down. 
The vehicles pass over the bridge at a much slower speed than without this control in place and this allows the registration to be read and the barrier to be lifted.
Additional benefits of the Apollo Live system include on-site contractor management, which uses the ANPR information to manage who enters/exits the site and at what times. It can also help manage the timekeeping of employees through the use of ANPR time-stamping capability.