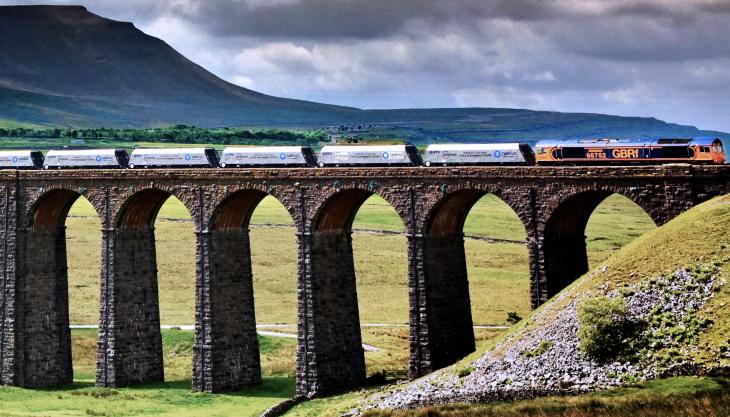 Company secures top honours with RFG's 'Business of the Year' award for freight innovation
TARMAC are celebrating after scooping a prestigious rail industry award in recognition of their commitment to boosting innovation and operational efficiency, and their collaborative efforts to support the UK's rail freight network.
The company secured top honours in the 'Business of the Year' category at the Rail Freight Group (RFG) Awards for its contribution to growing and expanding the industry, including through investment in new technology and rail-linked facilities and wagons, as well as collaborative working to drive decarbonization and sustainability.
The judges commended Tarmac for providing 'a clear voice in rail industry organizations and bodies' which 'leads by example', citing some of the company's key innovations and initiatives, including the successful introduction of the first 'jumbo' freight trains on the West Coast Main Line, and a partnership with the University of Derby seeking to reduce the industry's carbon footprint.
Tarmac head of rail Chris Swan said: 'With net zero becoming an ever-greater priority, the rail freight network is becoming more important in the UK than ever before and we're proud to play a significant role in the industry and its future. We're constantly reviewing how we operate to integrate innovation and ways to accelerate efficiency and decarbonization, not just in our own operations, but across the industry as a whole.
'Rail freight is a hugely important yet often unseen part of our daily operational activity serving the UK construction industry. To receive the RFG's Business of the Year Award is testament to the importance of rail freight to our operations and its significance to the construction materials sector. A huge thank you goes to our freight partners for their ongoing support and, most importantly, to our dedicated rail team here at Tarmac.'
In addition to their award, Tarmac also secured the runner-up spot in the 'Community and Environmental Responsibility' category for their partnership with Rail Forum Midlands and the University of Derby. Established with the aim of exploring how businesses could work more effectively with the rail supply chain, the partners launched the 'Opportunities for Decarbonizing Freight' challenge – a chance for SMEs to pitch new products and creative ideas with the aim of helping the industry to reduce its carbon footprint.