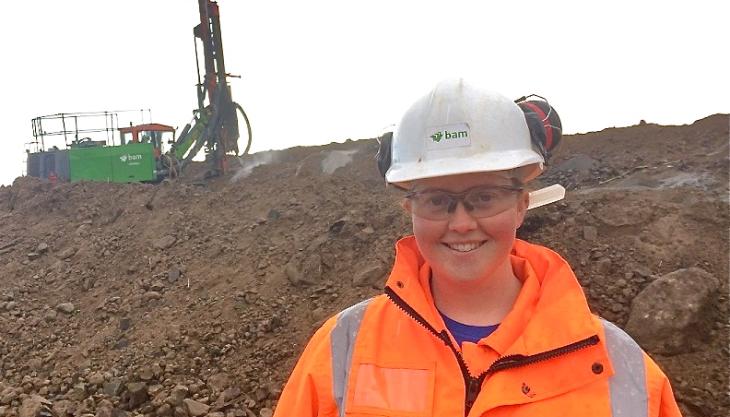 BAM Ritchies employee becomes first woman in UK to achieve MPQC Level 3 NVQ Diploma in Shotfiring
BAM Ritchies' Charlene Geddes has become the first female in the UK to gain the MPQC Level 3 NVQ Diploma in Shotfiring.
The 27-year-old geography and geoscience graduate from the University of Aberdeen achieved her NVQ qualification last month and has already managed three successful quarry blasts for Bam Ritchies, the geotechnical division of civil engineering firm BAM Nuttall.
'I've always been a very outdoor sort of person and practical. I don't like sitting behind desks,' said Ms Geddes. 'I hadn't thought about quarrying as a career but a friend from university encouraged me to go to an insight day and I thought it looked really interesting.
'I started as a trainee shotfirer and surveyor and I am now qualified in both. I've been told that I'm the only female in the country to have achieved this qualification. It's a really interesting job but one in which you have to prepare in great detail to ensure that the blast is successful and safe.'
In her role, Aberdeen-based Charlene covers the whole of Scotland and fires blasts primarily for aggregates but also for ornamental stone, the latter needing a different amount of explosives and a change in the charge sequence. To date, the largest amount of aggregate she has brought down in a single blast is 80,000 tonnes.
Ian Healey, deputy contract manager at BAM Ritchies, said: 'It's fantastic that Charlene has obtained her shotfiring NVQ. She has worked hard for this and it is a phenomenal achievement in such a short period of time. She is already working hard towards her Blast Design and Explosives Supervisor qualifications.'