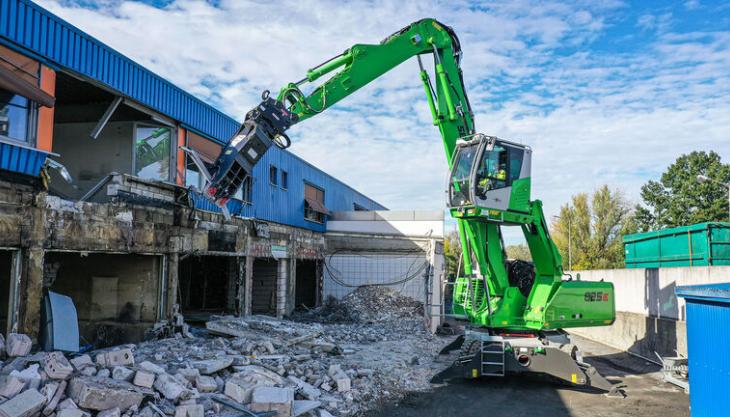 Latest machine suitable on demolition and recycling sites where space is at a premium
OVER the last decade or so, many equipment manufacturers have put engine development at the centre of the engineers' design brief. However, other considerations, from quality and durability to reliability and strong performance, are increasingly becoming major factors in the design of plant and equipment.
Sennebogen have reached their leading position in the marketplace by delivering purpose-built equipment and individual, customer-specific solutions. Having listened to recycling and demolition contractors in a sector where space is often at a premium and demand for strong performing machinery is required, the company's demolition-spec material handlers have been specially engineered to excel in urban locations.
Sennebogen have recently introduced their 825 R-HD E-Series material handler, which combines a small footprint and powerful tool handling with flexibility to adapt to multiple tasks. 
Mounted on an expandable crawler undercarriage, the machine is able to reach up to 45ft (14m) with a full range of interchangeable hydraulic attachments, and is purpose-built for waste-recycling environments, such as scrap yards and material recovery facilities.
The boom in the 825 R-HD features a fully hydraulic quick-change coupler allowing the operator to switch easily to the best tool for the job at hand. Every detail of the material handler has been examined and perfected to provide maximum durability and reliability during operation. 
Seated comfortably in the machine's Maxcab, the operator can perform a range of demolition duties, including deconstructing and sorting building parts, crushing waste materials with a concrete pulverizer, cutting/sizing with shears and loading recyclable material into trucks or bins through a choice of buckets and grapples.  
The 825 R-HD material handler is a highly versatile and adaptable unit, thanks to a compact footprint that allows it to quickly self-load on to a flatbed and move on to the next jobsite. The machine also benefits from Sennebogen's Green Efficiency technology, which allows the end-user to benefit from lower running costs, reduced fuel consumption and a smaller carbon footprint.