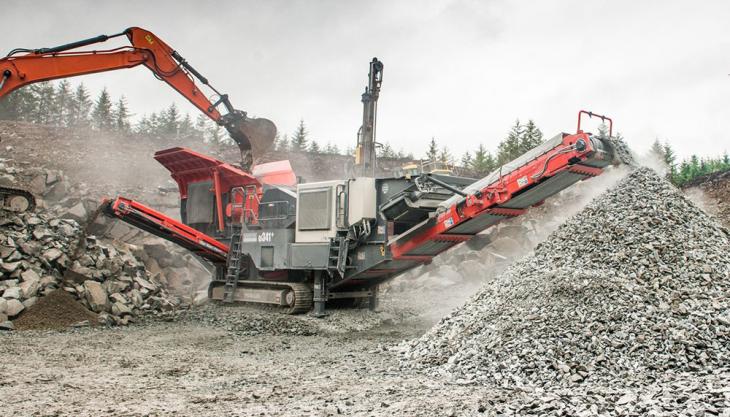 Company to unveil host of innovative solutions and aftermarket services at this year's show 
SANDVIK Mining and Rock Technology will be showing a number of innovative products and services at Conexpo-Con/Agg 2017. The focus will be on helping customers to improve their safety and productivity even further, with an emphasis on total cost of ownership, availability of service and parts and inherent product safety.
Some of the cornerstones of the extensive Sandvik offering of equipment and services will be on display, including: 
QJ341+ mobile jaw crusher – a new addition to the proven Sandvik QJ341 jaw crusher range, the QJ341+ unit comes with the added benefit of a double deck pre-screen as standard. The pre-screen enables the removal of fines to increase throughput, resulting in greater efficiency, less wear on the crusher and, ultimately, higher productivity. This will be particularly effective in quarrying applications with a high proportion of fines in the feed material.
UI310+ wheeled impact crusher​ – an electrically driven wheeled crushing unit that offers a versatile and highly efficient primary crushing solution. Incorporating the all-new patented and highly modularized Sandvik CI512 Prisec crusher, it offers the flexibility to configure one base crusher into either a primary or secondary configuration. Purpose-designed for the aggregates industry and targeted at the US market in particular, the Sandvik U1310+ features a pre-screen to maximize efficiency and is built with many features for ease of operation and low operating costs.
QE441 free-flow mobile scalper – a new variant of Sandvik's heavy-duty QE441 scalper with a two-deck free-flow screen, this model features a rigid scalping top deck and a dual-motion lower screen deck for processing high-specification or difficult-to-screen materials, making it a suitable solution for screening material such as soils, aggregates, ores, waste, biomass and other waste-derived fuels and products with high moisture contents.
Pantera DPi surface drill rigs – these feature a redesigned control system with an updated user interface and touchscreen. Providing support for new drilling rig options and enhanced troubleshooting functions, the new control system allows easier and more accurate operations. The Pantera DPi drill rig family consists of two models: the DP1100i for 89–140mm hole sizes; and the DP1500i for 102–152mm hole sizes.
'We're driving innovation throughout our entire portfolio, from new equipment to ever-smarter customer services,' said Jeff Heinemann, vice-president - sales area USA for Sandvik Mining and Rock Technology. 'We are focusing on the numbers that matter, by conveying customer value and lower cost of ownership of the total Sandvik package. At Conexpo, we will showcase a compelling offering of products and services – all designed to benefit our customers' bottom line in terms of increased safety and productivity.'