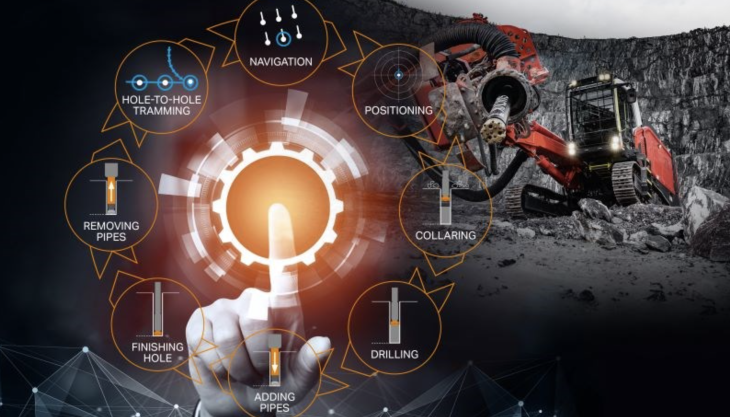 AutoCycle expands iDrill capabilities or fully autonomous Leopard DI650i surface drilling fleet operation
SANDVIK Mining and Rock Solutions have launched AutoMine Surface Drilling AutoCycle which allows fully autonomous operation of multiple Leopard DI650i drill rigs from a remote control room.
The AutoCycle capabilities expand the company's iDrill automated drilling cycle with autonomous hole-to-hole tramming, path planning, obstacle detection and geofencing.
'With the growing demand for surface drilling automation, we have developed, together with key customers, our new AutoCycle capabilities to enable fully autonomous fleet operation through the drilling cycle,' said David Hallett, vice-president of automation at Sandvik Mining and Rock Solutions.
'These capabilities include hole-to-hole tramming without operator involvement for continuous autonomous drilling through the entire pattern. From a control room, an operator can oversee the autonomous operation of multiple surface drill rigs remotely, improving operational safety and increasing productivity and fleet utilization.'
The Leopard DI650i iDrill automated drilling cycle covers all steps from boom positioning, drilling and pipe handling to finishing the hole, and ensures consistent high-quality drilled holes.
AutoMine Surface Drilling with geofencing functionality sets the drilling area where remote operation is allowed. The system prevents the rig being moved outside the defined area.
Autonomous hole-to-hole tramming allows automatic drill rig relocation according to the drill plan, with the operator assigning the hole sequence using a large touchscreen. The AutoMine obstacle detection system will automatically stop the rig and interlock tramming in the event of detected obstacles in the stop-zone to avoid collision.
The AutoMine Surface Drilling safety system is designed and built according to international safety standards, providing the functionality to operate the autonomous drilling system with complete peace of mind.
According to Sandvik, AutoMine Surface Drilling AutoCycle together with iDrill intelligent sequences will offer increased efficiency and productivity through consistent and accurate performance, as well as improved operator safety and comfort.
Moreover, AutoMine Surface Drilling offers scalable automation with three remote operation packages:
Line-of-Sight package is optimized for quick set up when an operator remains close to the drilling area
Control Room package includes enhanced features for locating an operator in a control room away from the drilling area
Autonomous package includes all capabilities to allow fully autonomous operation of AutoCycle with a fleet of Leopard DI650i drill rigs.