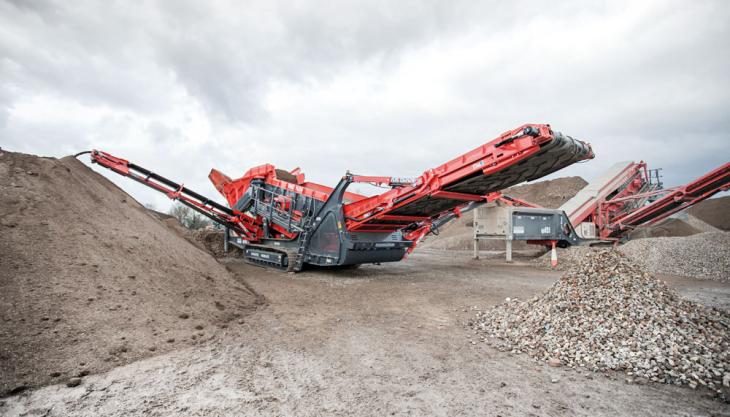 New high-performance scalper for difficult-to-screen material with high moisture content
SANDVIK Construction Mobile Crushers and Screens have announced a new addition to their scalper range with the introduction of the QE441 Free Flow, which is described as a versatile and highly efficient solution for processing difficult-to-screen materials with high moisture contents.
Based around the sturdy crusher-style chassis of Sandvik's existing QE441 machine, the new version incorporates a highly productive double-deck Free Flow screen that allows for the scalping of large un-screened material on its rigid, heavy-duty modular top deck, whilst a fine screening solution is provided on the dual-motion lower deck.
The powerful snapping of the bottom deck media generates an active 'flip-flow' movement which generates a huge throw that propels material upwards and outwards, separating it as it does so and thereby eliminating any plugging and blockages. This results in the processing of more sellable products and the production of less waste.
Sandvik say the QE441 Free Flow has been designed with the same user-friendly features as their other 1-Series screens. These include an easy-to-use control system and user interface with sequential start, together with two-speed tracking to help reduce travel time between job sites.
With a large choice of screen media and a wide range of adjustable throws and speeds available, the QE441 Free Flow can be configured to suit the specific requirements of each application. It has been designed to complement Sandvik's Premium jaw crushers and QI341 Prisec impact crusher, but can also work as a stand-alone unit.
Other key features of the new QE441 Free Flow include:
An 8.5 cubic metre feed hopper with feeder load-sensing facility to prevent blockages and unnecessary downtime
18ft x 6ft modular-design screenbox for easy replacement of screen media
Highly efficient and easy-to-use electrical control system with colour-coded numerical push buttons for ease of operation
A 129hp (96kW) Cat C4.4 ACERT engine 
Heavy-duty crusher-type chassis designed to accommodate interchangeable side conveyors and compatible with two- or three-way-split configurations
Large stockpiling capability through integrated hydraulic conveyors
Spacious and easily accessible hydraulically folding maintenance platforms
Radio-controlled two-speed tracks fitted as standard.