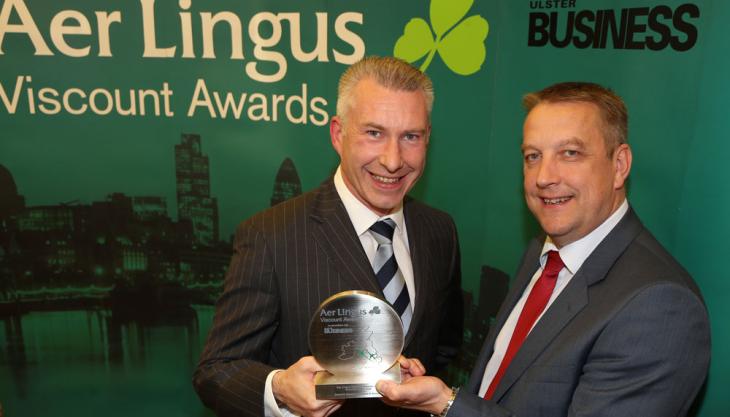 Northern Ireland company scoops prestigious award in Aer Lingus Viscount Awards
BALLYGAWLEY-based Sandvik Construction Mobile Crushers and Screens have been named Exporter of the Year in the 2016 Aer Lingus Viscount Awards.
The awards, held in conjunction with Ulster Business, celebrate the best in the private business sector in Northern Ireland, and the Exporter of the Year award recognizes the work by Sandvik in increasing export sales and, thereby, their contribution to the economy of Northern Ireland.
Judged by a panel of respected business figures, the Aer Lingus Viscount Awards have grown to become the premier business awards in Northern Ireland, with entries received from some of the most dynamic and innovative companies in the region.
Speaking at an awards luncheon at the Institute of Directors' offices in Pall Mall, London, on 24 May, Terry Allison (right of photo), managing director of Sandvik Construction Mobile Crushers and Screens, commented: 'We would like to thank everyone for their continued efforts. Their contribution to the business has helped us (Sandvik Construction) achieve this award.
'It is testimony to the people within the organization all playing a key part in enabling our success in making our operation truly global.'
The Exporter of the Year Award is presented to the company that best demonstrates how, in the last 12 months, it has increased export sales with a clear commitment to expanding its business outside Northern Ireland.
The award is seen as a significant achievement and recognizes Sandvik Construction's contribution to Northern Ireland, and Mobile Crushers and Screens' contribution to Sandvik.