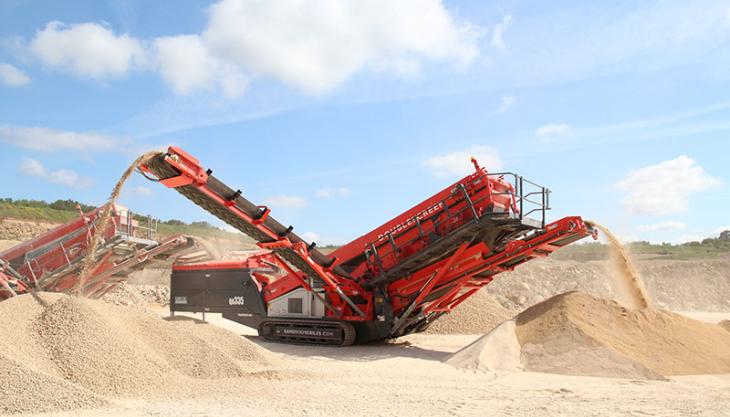 New unit said to offer an efficient, versatile and productive solution for the ultimate in screening flexibility
SANDVIK Construction say the introduction of the QA335, a new 26.3-tonne, mid-sized mobile screening machine featuring the company's patented Doublescreen technology, offers customers a highly efficient, versatile and productive solution designed for ultimate screening flexibility.
Based around a 4m x 1.5m (13ft x 5ft) Doublescreen, the QA335 is said to include many class-leading features for ease of operation. These include: a user-friendly, colour-coded electrical control system with sequential start-up; hydraulic screen separation to aid screen media changes; and a fuel-efficient 74.5kW (100hp) Cat C4.4 engine.
The QA335 has also been designed with hydraulically operated wrap-around walkways to provide a safe working platform for service and maintenance. Moreover, the machine features full radio remote control with two-speed tracking for ease of manoeuvrability on site, and an oil cooler is fitted as standard.
According to Sandvik, the company's innovative Doublescreen technology is one of the most adaptable and flexible screening solutions available on the market today. It consists of two high-velocity double-deck screenboxes (a 5ft x 5ft primary screen and an 8ft x 5ft secondary screen) featuring independent screen drives.
The ability to adjust the working angle of each screen independently to suit the exact requirements of a specific application offers greater adjustability, increased accuracy and higher screening efficiency, and is said to make the QA335 ideal for producing tight/high-specification products, without compromising on production.
Other customer-focused features of the QA335 include: a 6.6 cubic metre capacity feed hopper; a large stockpiling capability via integrated hydraulic conveyors; a wide selection of optional extras to suit all climates and customer needs; and full safety compliance with the latest machinery directives.