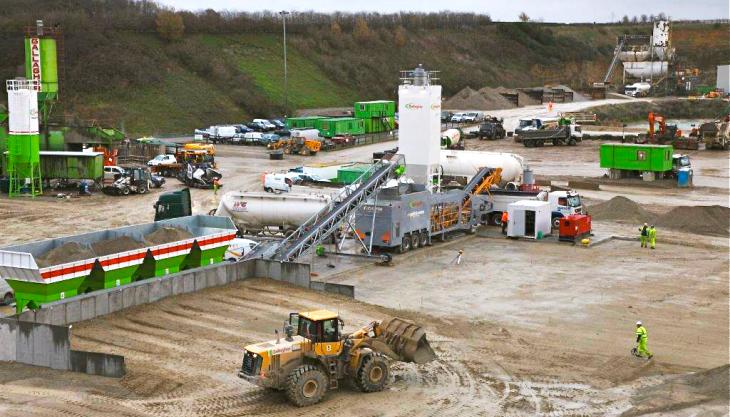 New-generation mobile continuous mixing plant allows quarrying firm to reuse its waste fines
RAPID International Ltd have recently supplied Gallagher Group with a new Rapidmix 400CW mobile continuous mixing plant, primarily for operations at the Kent-based firm's Hermitage Quarry, but also for use on location when necessary.
Having previously purchased a three cubic metre Rapid pan mixer for one of their concrete batching plants, Gallagher were already confident in Rapid's mixing technology capabilities.
The new Rapidmix 400CW plant is employed in the production of the company's 'Gallapave' range of HBM (hydraulically bound material) and RCC (roller-compacted concrete) products.
HBM is used as sub-base and basecourse to replace traditional capping layer, Type 1 sub-base and tarmacadam basecourse in road construction.
RCC is a semi-dry concrete product for use as a wearing surface where a strong pavement is required, such as airport runways and aprons, warehouse floors, and container port storage and handling areas.
Commenting on their purchase, a spokesperson for Gallagher Group said: 'With the Rapidmix 400CW, we are using the waste fines from our fixed primary crushing plant for our HBM products, reducing the number of dumptrucks moving fines and saving space in our landfill.'
Victor Pickering, who is responsible for Rapid sales on the UK mainland, remarked: 'The new Rapidmix 400CW has afforded Gallagher Group the opportunity to profit from their previously redundant waste fines and, in turn, broaden their supply of new materials, opening new market channels.'
As semi-dry mixes such as HBM and RCC are typically less economical to produce in a conventional static batch plant, the Rapidmix mobile continuous mixing plant solves this problem as it is specifically designed for such mixes, ensuring a high output of high-quality homogenous material at all times.
The plant's on-board high-speed Rapid twin-shaft mixer contains chill cast-steel mixing paddles which are intermeshed in a specially phased relationship to optimize the mixing action, while maximizing throughput.
Moreover, the mobile nature of the plant combined with its technically advanced design mean the Rapidmix 400CW provides a cost-effective solution for deployment on projects where high-specification compliance coupled with a high-volume, fast throughput are critical.
Fully self-contained, the Rapidmix 400CW has its own on-board compressor and generator for power, and is fitted with a hydraulic self-erecting system that allows the plant to switch from travel mode to fully operational mode within a few hours.
Offering outputs of up to 600 tonnes/h, the recently updated, new-generation Rapidmix 400 CW unit incorporates full weighing options for aggregates, cement and water, thereby ensuring fully automated, precise and detailed record-keeping at all times.