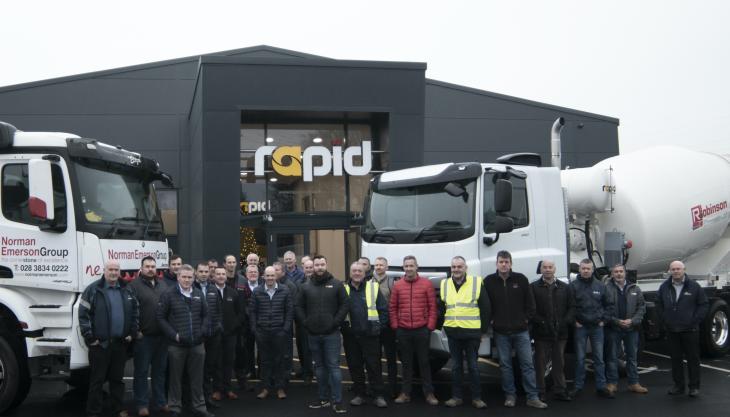 Company re-introduces an original product with launch of sister company Rapid Tumbler
RAPID International Ltd have re-entered the concrete truckmixer market with the launch of sister company Rapid Tumbler – suppliers of premium lightweight truckmixers.
Rapid Tumbler's first product to market is the RTM89, which features an 8 cubic metre mixing drum manufactured using long-life, high-strength, Arcelor Mittal steel.
The new truckmixer also features premium components from Bosch Rexroth and ZF Germany, and the range is set to be expanded in 2020 to include other size options.
The official launch of Rapid Tumbler took place in December 2019 at Rapid's headquarters in Tandragee, Co. Armagh, attended by many local and national ready-mixed concrete companies, as well as members of the Mineral Products Association Northern Ireland (MPANI).
Attendees had the opportunity to view the new RTM89 truckmixer, tour the factory and meet with representatives from truck manufacturers Mercedes, Volvo, Scania and DAF.
Mark Lappin, managing director of Rapid International, commented: 'We're delighted to re-enter the truckmixer market through the launch of our new sister company, Rapid Tumbler.
'Having celebrated our 50th anniversary last year, it seems fitting to re-introduce one of Rapid's original iconic products.'