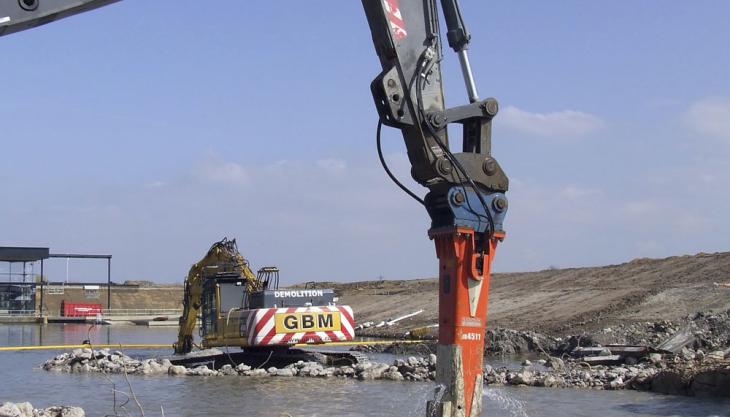 UK demolition contractor uses Sandvik breakers to tackle underwater demolition duties in Norfolk

GBM Demolition are currently using a pair of Sandvik breakers to tackle underwater demolition work at the St Germans pumping station at Wiggenhall St Germans, in Norfolk.

Originally built in 1934, the pumping station is the largest in the country and forms a vital part of the water control on the River Great Ouse, offering protection to 24,000 homes, 1,100 commercial properties and 70,000ha of high-grade agricultural land in the Fens south of Kings Lynn.

The pumping station had been earmarked for upgrading and refurbishment in 2010, but following further evaluation it became apparent that the existing building would not be viable due to the high cost of servicing the 64-year old pumps.

The Middle Level Commissioners therefore took the decision to demolish the original building, including the 2m thick concrete slipways and sluice gates that were more than a metre under water, to make way for a new £40 million pumping station that will house six state-of-the-art pumps capable of moving 100 cubic metres of water per second.

As part of the upgrading process, main contractors Costain had used another demolition contractor to demolish the upper building structure, but a specialist demolition contractor was required to carry out the underwater work, in particular the operation of hydraulic breakers underwater.

Lincolnshire-based GBM Demolition are using a Volvo EC700 and a Komatsu PC450, both fitted with Sandvik BR4511 3,800kg breakers supplied by Sandvik's dealer for North East Midlands, AMS Bobcat Ltd. Both are working under water breaking reinforced concrete at the side of the sluiceways, with the Komatsu PC450 wading into the lagoon to demolish the slipways.

'It was impossible to dam the water supply so we were forced to provide a demolition solution that would work under water, but working under water with a breaker presents all sorts of problems,' explained contracts manager Mark Kime.

'We are using special grease for the breakers and all the hydraulic oil has to be bio-degradable. But the biggest problem is ensuring that water does not enter the hydraulic system through the breaker. This can only be done by operating the breaker with a constant 5 bar pneumatic air supply supplied by mobile compressors, and connected to an air input point designed for underwater applications.

'However, there is always the risk that if the air supply fails, water will enter the system within seconds and destroy the hydraulics, so Sandvik have installed safety cut-off systems that sound warnings and isolate the breakers long before any damage can be done.

'The breakers are extremely well built, easy to maintain and inexpensive to run, but best of all, they come with the expertise and knowledge of the Sandvik breaker support team, and that's invaluable on a project like this,' said Mr Kime.