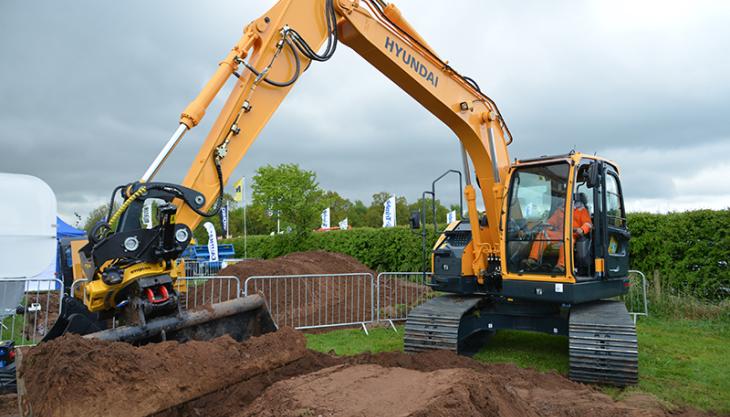 Organizers say more than 65% of space sold to date with 140 exhibitors signed up to attend
THE next big UK event in the construction show calendar will be the second biennial Plantworx exhibition, which takes place in nine months' time at its brand new home at Bruntingthorpe Aerodrome, in Leicestershire.
Earlier this summer, the Plantworx team held a 'One Year to Go' event at Bruntingthorpe, where around 40 guests representing both exhibitors and potential exhibitors were able to see the planned layout of the 2015 show.
The CEA, which organizes the show, says that, to date, Plantworx is more than 65% sold with 140 companies having signed up to exhibit at the event – 26 of these being brand new to the show. The 'working' demonstration areas are also said to be selling well – with only 25% of allocated space remaining.
First-time Plantworx exhibitors will include bucket and attachment specialists B A Caulkett; compact construction machinery manufacturers Bobcat; wear parts manufacturers Digbits; hydraulic component manufacturers and suppliers Flowfit; and compressor, blower and pump manufacturers Gardner Denver.
Other new exhibitors to sign up include: Apex Plant Group, Global Track Warehouse UK, Hydrotechnik UK, JLG/JLG International, Kobelco (Molson Group), Liebherr GB, Mentor Training, Pavemac, Promac Solutions, Securi-Cabin and Timken ILS.
The 2015 event will also see more transport-related companies in attendance, including: AJC Trailers, Ifor Williams Trailers, Isuzu Trucks, King Trailers, Nooteboom Trailers, Nugent Trailers and Shawtrack Services.
In addition, the CPA (Construction Plant-hire Association) will be present once again to promote its 'Stars of the Future' competition – an annual awards scheme, now in its third year, that recognizes talented youngsters on plant mechanic apprenticeship schemes. Richard Noble OBE, pioneer of the Blood Hound SSC (super sonic car) project, will present the awards to the 22 regional winners and two national winners on the final day of the show.
The awards will tie in with the 'Plantworx Student Day', where students and teachers from primary and secondary schools and colleges will be invited to visit the show (after 12pm on Thursday 4 June) to gain an insight into the construction equipment sector as a possible career path.