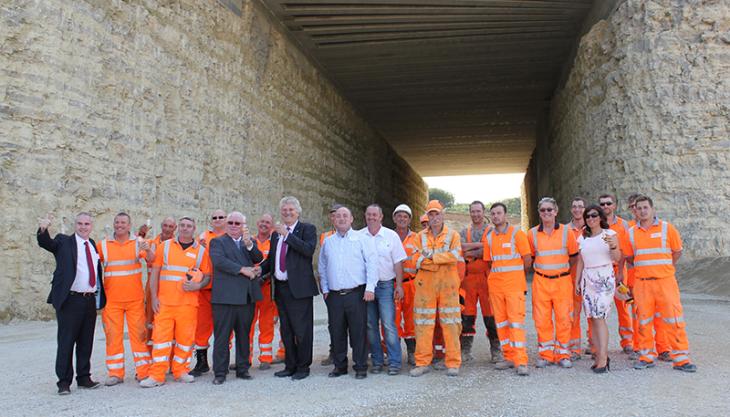 Gallagher Group gain a further 25 years at their Kentish ragstone site near Maidstone
A QUARTER of a century of quarrying at Hermitage Quarry, near Barming, in Maidstone, has been celebrated by more than 600 employees and their families, customers, suppliers and local dignitaries, during a special two-day event, organized by Gallagher Group.
The highlight of the event was the official opening of a specially constructed tunnel linking the current quarry and the new westerly extension, which will deliver a further 25 years of employment at the site, supplying Kentish ragstone aggregate and building stone.
Designed and constructed by the Gallagher team, the tunnel cost £1 million to construct and measures 100m in length by 16m in width and 15m in height. The structure took nine months to complete and was necessary to allow local residents and horse riders to continue to enjoy an established by-way/footpath.
Pat Gallagher, chairman of Gallagher Group, was joined at the official opening of the tunnel by Councillor Mark Dance, Kent County Council's Cabinet Member for Economic Development and Regeneration, guests and members of the Gallagher team.
During the opening, Mr Gallagher said: 'Today is about celebrating our past, and the quality of our quarrying and commitment to restoring the land once we have removed the Kentish ragstone.
'It's also about looking forward to the next 25 years and the work that we will do as a family-run business to deliver on our promises and restore the land back to what it was, or better. Many of the fields around the quarry have already been quarried and today they are productive farmland.
'In addition to the tunnel, the new planning permission has been the catalyst for new jobs, the investment of £9 million in new equipment, plant and vehicles, and the launch of new products Gallapave and Gallaflo.'
Acknowledging the local importance of Gallagher Group, Councillor Dance said: 'Pat and his team have built a business that Kent can be truly proud of. Not only is Hermitage Quarry producing the Kentish ragstone needed by the construction industry, it provides the indigenous building stone for use in new-build and restoration projects, and is providing important employment for local people.'