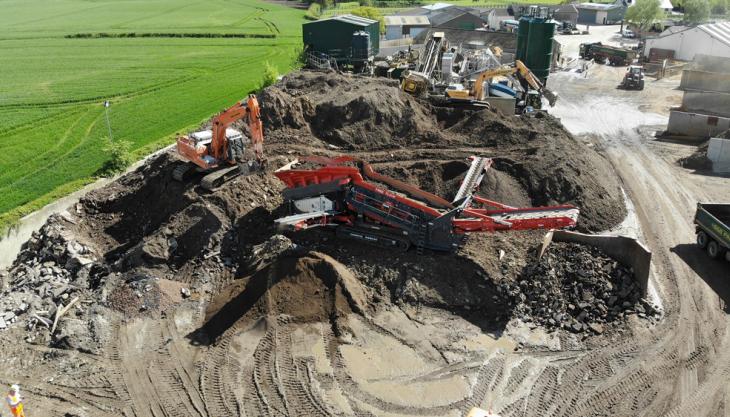 G&B Finch invest in QE441 mobile scalper to meet increased demand of recycled products 
ESSEX-based G&B Finch have purchased a new Sandvik QE441 heavy-duty scalping plant to help boost their construction and demolition (C&D) waste-recycling operations. The advanced screening deck on the machine has increased production by more than 30% and will allow the business to continue recycling throughout the year.
G&B Finch trace their origins back to 1957 when they began operations primarily as a plant hire and haulage contractor. Over the years the company has diversified to now providing specialist concrete crushing and screening, processing of demolition waste, recycling, utilities contracting, heavy lifting and site remediation. 
And the services provided include a specialism in a wide variety of waste disposal facilities for concrete, hardcore, tarmac, inert soil and non-hazardous and hazardous soil. 'Our core business today is recycling,' said Lee Finch, operations director for G&B Finch. 'We bring in various types of mixed C&D waste which we process by screening, crushing and washing to make various aggregates for resale and reuse.' 
At the centre of G&B Finch's recycling operation is the new QE441, which has been specially developed for large aggregate producers. Given the multi-facetted and hardwearing nature of Finch's business and the production of large amount of high-quality aggregate from C&D waste, the QE441 is undoubtedly a suitable item of equipment. 
A key attribute of the QE441 scalping plant is its large, highly aggressive 18ft x 6ft screenbox with its purposed-designed screening media. 'The media screen performs fantastic,' said Mr Finch. 'One of the major differences we've found is the effect it has had on downtime. Because of the way it works; you don't get broken wires and you don't get broken mesh.'
The effect of broken wires and meshes on production efficiency can be a major cause of concern for a thriving business. Mr Finch continued: 'Two hours lost, sorting out and replacing broken wires and meshes during the day, and you've lost a lot of money.
'The media screen on the QE441 has transformed how we can process during the winter. With our previous machine we'd basically come to a standstill, due to wet, cloggy material and we really couldn't screen. Buying the Sandvik machine meant that we are now able to take out the fine.'
Trouble-free operation is maintained through the apron feeder of an 8.5 cubic metre wear-resistant hopper and 1,600mm wide oversize conveyor, which assists easy transfer of material to the product conveyors, including large sized or very difficult in-feed materials. 
With discharge heights in excess of 4,000mm+, the wide, hydraulically folding and angle adjustable conveyors on the crusher-style tracked chassis, further provide a large stockpiling capacity delivering higher productivity via remote-controlled operation.