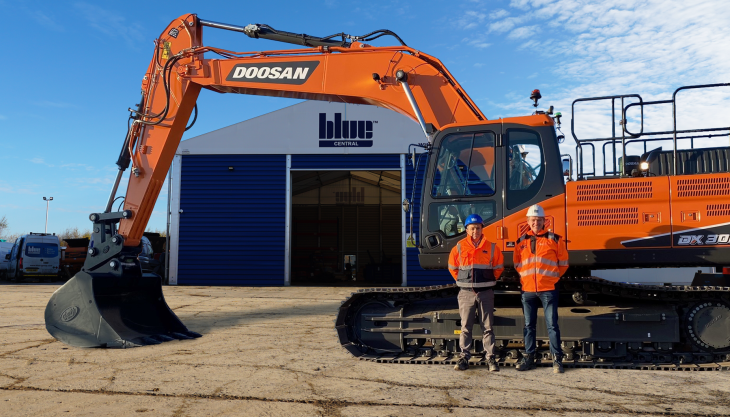 Blue Machinery (Central) Ltd announced as Doosan dealer for the North West and North Wales
BLUE Machinery (Central) Ltd have been appointed as the distributor for the entire range of Doosan crawler excavators, wheeled excavators, articulated dumptrucks, wheel loaders and mini-excavators across the North West and North Wales, representing Doosan throughout Lancashire, Merseyside, Greater Manchester, North Wales, Cheshire, and the islands of Anglesey and the Isle of Man.
The addition of the Doosan brand to Blue Central's product portfolio will allow them to become a 'one-stop shop' for customers operating across a host of industries and applications and will complement Blue Central's existing market-leading equipment offering from brands such as Terex Powerscreen and Doppstadt.
Blue Central, who have a network of engineers based right across the region, will offer customers total support throughout their machine's lifetime. Their 'Blue Care' service packages allow customers to choose a level of service which works best for them, to help improve their machine's efficiency whilst minimizing the cost of ownership. Blue Central will also supply genuine Doosan OEM parts from a large stockholding and with same/next-day delivery to keep machines up and running.
This new distribution partnership has led to significant investment from Blue Central with the acquisition of a second facility. The new four-acre site in Nantwich, Cheshire, will act as a dedicated depot for their Doosan equipment and spare parts. They have also expanded their team to help support the Doosan brand with the addition of a new operations team and sales representatives, as well as several factory-trained engineers who have been provided with Doosan-specific diagnostic tooling and equipment.
Sean McGeary, sales director at Blue Central, commented: 'We are very excited to introduce the Doosan product range to our supplier portfolio. We recognize the significant market share that Doosan have in the region and feel that the range complements our existing suppliers, such as Terex Powerscreen and Doppstadt, and helps us complete the product offering to our clients.
Kim Dudley, Doosan's regional manager for the UK North and Nordics, commented: 'We welcome the appointment of Blue Central as our authorized dealer for the North West and North Wales. They will bring their strong aftermarket support and parts expertise to the Doosan construction products in the region.
'Blue Central have committed to carry a depth of stock of new machines and parts, to offer excellent levels of support and availability of Doosan products. And with all the Stage-V diesel engines and Dash-7 medium-size and heavy product launches completed in 2021, and other new products coming on stream early in 2022, it promises to be an exciting year.'