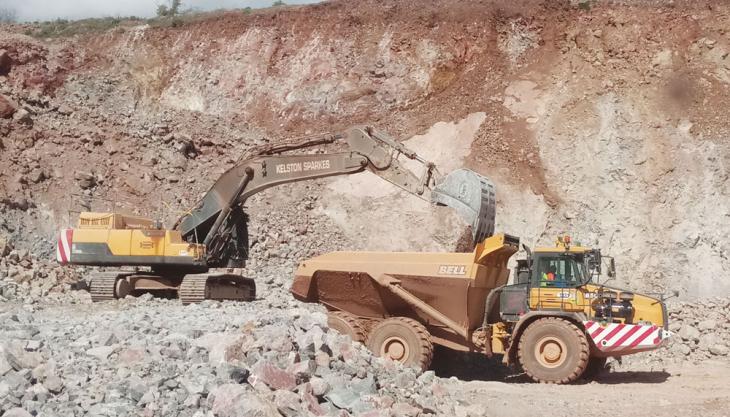 Earthmoving contractor brings total of B50D ADT models across its fleet to 10
WITH a strong focus on supplying customers with the most capable plant machinery, Kelston Sparkes have recently announced a fleet enhancement of four additional Bell B50D ADTs, bringing the total number of this model to ten.
Established in 1952, Bristol-based Kelston Sparkes have grown to operate one of the largest fleets of ADTs in the UK and continually strive to increase the capabilities of their fleet, with the addition of larger excavators, crushers, screens, bulldozers and rollers.
The company now operates more than 200 plant and earthmoving vehicles and in 2016, it decided to bring a new ADT model on board with a greater load volume, to further meet the needs of its customers.
Kelston Sparkes invested in four new Bell B50Ds, which were originally tasked with quarry-based loading and hauling operations. The machines demonstrated their versatility and coped well with the long-haul work, proving themselves to have the capacity and fuel efficiency Kelston Sparkes' customers were looking for.
Company director Rob Stark explained: 'We required not only articulated dumptrucks for their versatility, but also needed a much larger load capacity than the current 40-ton dumptrucks we operate, due to the long-haul distances, coupled with the knowledge that our customers are very fuel-focused.  
'We found the Bell B50D models could meet both those requirements, delivering a 2:1 heaped capacity of 28 cubic metres and rated payload of 45,400kg – figures that provide a real pay-off for the customer.'
He continued: 'We initially invested in four machines, each with a Mercedes Benz turbocharged, intercooled engine, a feature that makes a real difference in terms of fuel efficiency. The ADTs have proved to be reliable and have performed well, both in the quarry and at our contracting sites.'
Keen to develop the skill sets and expertise of younger generations of machine operatives, Kelston Sparkes launched their own training facility in 2002, a venture, which they say, has since grown from strength to strength.
'We've always been acutely aware of the ramifications skill shortages within the construction industry create,' said Mr Stark. 'Through a desire to nurture construction industry capabilities for the future, an ethos has evolved within our firm where importance is placed on training for younger team members.
'Our training school launched over 15 years ago and, since then, has successfully worked to attract younger drivers to the construction industry, giving them the abilities and confidence they need to achieve a successful career in plant machinery operations. 
'We've helped and given operatives a platform to achieve Construction Plant Competence Scheme (CPCS) qualifications and extend their reach by teaching them how to achieve the best performance from a wide range of earthmoving machines.'
By bringing the total of Bell B50Ds within Kelston Sparkes' fleet to 10, and allowing training operatives to use the equipment to its best advantage, Mr Stark believes his clients are better equipped with more machines available to meet demand and perform to capacity.
'Our reputation has been built on a long-standing ability to provide the best and most appropriate range of equipment to clients, alongside the services of highly-capable and skilled operatives, now and into the future,' he said.