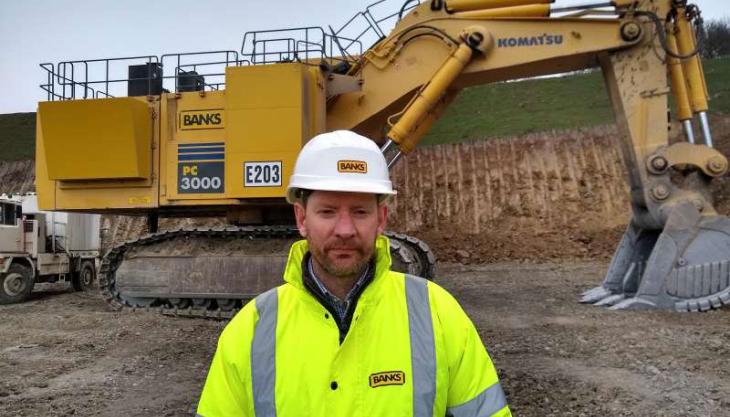 Company purchases Komatsu PC3000-6 excavator for use at Bradley surface mine

BANKS Mining have invested a six-figure sum in the acquisition of a Komatsu PC3000-6 excavator for use at their Bradley surface mine in Co. Durham, following the good service of a similar machine at the company's Shotton surface mine, in Northumberland.

The 254-tonne excavator had previously been operating at the Hinkley Point nuclear power station development site in Somerset before being moved to Banks Mining's depot at Thrislington, in Co. Durham, and then taken the 23 miles to the Bradley site to be rebuilt by a pair of 200-tonne cranes.

In line with The Banks Group's 'development with care' approach, the excavator uses a single V12 engine, which has a similar power output to that of rival twin-engine machines while using less fuel.

Komatsu have recruited a local service engineer to be based permanently on site and have also placed a stock of consumable parts at Bradley to ensure the excavator is kept working for the maximum time possible.
Robbie Bentham (pictured), plant director at Banks Mining, said: 'Giving our highly skilled teams the equipment they need to work our sites in the safest, most efficient and most environmentally responsible way possible is an essential part of our overall operational strategy.

'The Komatsu excavator based at Shotton has surpassed our expectations in terms of mechanical availability and we are seeing similarly impressive results at Bradley.'